Over the summer, we have the pleasure of having 

Bryan Nordley

 join us as our Communications Assistant.  Here, he shares with us some of his thoughts on our oceans.
The sunshine, the seemingly endless daylight and the heat of summer make the great Strait of Georgia a beckoning beacon of an oceanic playground which most of us will enjoy at one point or another this summer.  As Vancouverites know, beach life in Vancouver is a meca for recreational fun and play. Whether it is a view of our striking skyline, or blissful blue horizon of English Bay and the Strait, or the spectacular North Shore mountains, Vancouver's dynamic coastal views and active beachgoers  have given it a reputation as a beach city.  Vancouver actually makes it to number 10 on 
National Geographic's Top Ten Beach Cities
.  But it is important to remember that amongst the beauty and seaside ambience, most coastal waters have their health risks.  With major population centers growing around North America's coastal waters, every beach city can pose an inherent risk to our health if we are not cautious.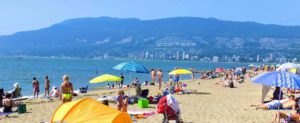 Photo by Bryan Nordley
Increased urbanization around the sea has an impact on the surrounding environment. Sewage, pesticides, and fertilizer run off as well as garbage and plastics are just some of the factors that can affect the quality of our beaches, the lives of marine organisms that inhabit the environment and our own personal health. Swimming in contaminated waters can have serious health consequences  such as skin rashes, respiratory problems, ear infections, stomach problems and even more serious illness like hepatitis and meningitis.
 Thankfully, environmental advocates and the government test our waters to inform citizens when pollution levels or bacteria levels are high enough to be hazardous to the health of the individual.  For 
Vancouverites
, Vancouver Coastal Health created the Canadian Recreational Water Guidelines and makes sure that Vancouver beach waters are sampled during swimming season to comply with these guidelines.  Vancouver Coastal Health has established a level of 200 
coliform bacteria
 per 100 mls of water in recreational areas providing a geometric mean over the most recent 30 days.  Levels above 200 are considered unsafe to swim in since they can behazardous to human 
health
.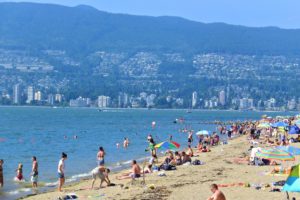 Photo by Bryan Nordley
A great way to know the quality and any potential health hazards of a beach is through websites and downloadable apps like the Swim Guide.  The Swim Guide was created by a Toronto branch of the Water Keepers Alliance, an international organization started by Robert F Kennedy Jr which protects some 100,000 miles of river, streams and coastline in North America, Europe, Australia, Asia, and Africa.
This great guide
 is a user friendly way to find local beaches within Canada and the United States and check the status and monitoring of those beaches. Using Google maps and your smart phone location, the website and app pinpoint all major local beaches within a vicinity giving the total number of beaches and the color status of each beach.
Beaches that appear in green have a current status of swimmable and healthy, currently meeting water quality standards and shows when this status was last confirmed by Water Keepers.  A status of yellow means that the beach passes water quality tests 0-95% of the time.  If a beach has the status of red it means that the beach fails to meet water quality standards at least 40% of the time and is likely to be hazardous to your health. Finally beaches with a grey status are either untested or recent and reliable water quality information is not available.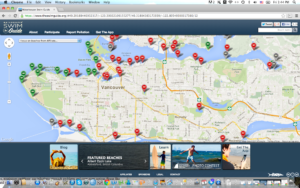 In addition to the most recent status of a beach, almost all beaches included on this website have a historical status chart showing their history typically going back to 2011 and showing the percentage of beach closures throughout the year. The Swim Guide also gives a brief description of each individual beach, as well as photos, and highlights featured beaches throughout North America.
 Although the cleanliness of beach waters varies throughout North America, in Southern California, one of North America's prime beach hubs, hallmark beaches in our sister city Los Angeles like 
Santa Monica Pier
 often maintain a dismal historical status of red throughout the swimming season with closures in effect 54% of last summer's swimming season and 30% closure rate in 2012.  An article in the 
NY times "Surfs Up, but the Water is Brown,"
 from 2007 illustrates some of the issues of beach pollution and cleanliness examining the LA area.
However, Vancouverites should be proud of the cleanliness of their beaches. Over the past three years, notorious beaches like 
Spanish Banks
,  
English Bay
 and 
Kitsilano
 have held a status of green open for swimming 100% of the swimming season, continuing our cities strive and record for environmental cleanliness.