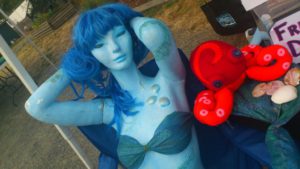 Here I am enjoying the 100th annual Coombs Fair! (Photo M. Wilson)
Hi everyone; it's your favourite mermaid here, asking for some help choosing my new name.
Georgia Strait Alliance's
Outreach Coordinators Mikaela and Megan have worked tirelessly all summer to get as many name choices as possible for me to choose from, and over 300 wonderful people contributed! Now the staff at GSA have narrowed all these names down to just five (plus one honorary entry). The problem is, these five name choices are all so beautiful I just can't choose my favourite, so I need some help from all of you. Please send Mikaela an
email
with your favourite name (just pick one, okay?) and she'll start a tally. The name that gets the most votes will be my new name and the person who suggested it will win a prize! And by voting online or at one of our Outreach events, you'll be automatically entered to win a
ToxicSmart
prize pack! Who can resist that?
Here are the great names you get to choose from:
Aria (pronounced Arr-eea): an Italian term for an expressive melody.

Indigo: the colour of intuition and perception.

Marina: a graceful way to show my aquatic side (also a great place to moor your boat!).

Salisha (pronounced Sal-ee-sha): an interpretation of the Salish Sea.

Sirena (pronounced Sigh-ree-na): a variation of the beautiful Greek Sirens.
Aren't they beautiful? Oh, and there's one more entry, one I put in myself. I'm still so attached to my old name, Georgia, that I will accept votes for that name too! If Georgia is your favourite name, feel free to vote for it. If it gets the most votes, then I'll keep my old name, and the top suggested name will still win a prize. And I'm going to cheat a little; if Georgia doesn't get the most votes, the winning name will be my first name, and Georgia will become my middle name (I just can't let go of this great name!).
So go ahead and vote everyone, and thank you so much for helping me with this tough decision!
– The Mermaid formerly known as Georgia