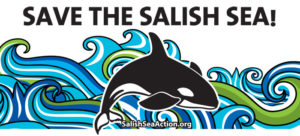 I am very excited to announce the launch of
Save the Salish Sea
, our new campaign in collaboration with the Wilderness Committee to protect our unique corner of the ocean from the threat of fossil fuel expansion.
The Salish Sea is one of the world's most spectacularly beautiful and ecologically rich bodies of water, stretching from the north end of the Strait of Georgia to Puget Sound in Washington State. Here, hundreds of rivers meet the sea, creating a unique coastal environment that supports a huge variety of marine life, including wild salmon and endangered killer whales. Tourists, businesses and residents alike are drawn by the region's mild climate, unique geography, fantastic quality of life and the stunning natural beauty of the Salish Sea.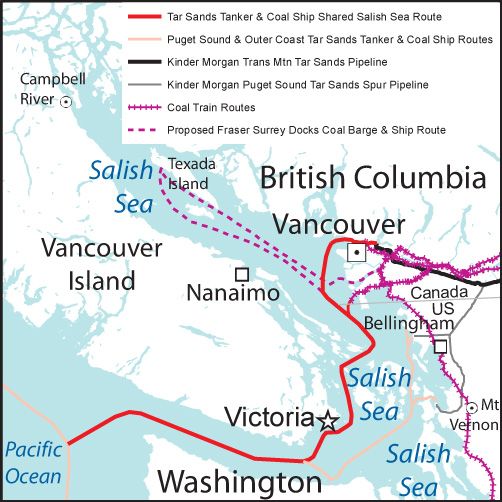 Map courtesy of Wilderness Committee
All of this is at risk. Right now, plans to triple the capacity of Kinder Morgan's pipeline running from the Alberta tar sands to the BC coast, and to dramatically increase coal shipments from our ports, risk turning the Salish Sea into a superhighway for fossil fuel exports.
If these projects are approved, BC will be responsible for millions of tonnes of extra carbon emissions and go from being a green leader to a global climate change export hub. And the magnificent Salish Sea will be under the constant threat of a catastrophic oil spill that would devastate the marine environment, coastal communities and BC's entire economy for decades to come.
For us here at GSA, Save the Salish Sea is a natural extension of our efforts to protect the Georgia Strait from the threat of increased tanker traffic. We want to highlight the combined impacts of fossil fuel exports in the region, both to our local waters and our global climate, and contribute to the national conversation about how we make the transition to a clean energy future. By banding together with allies from all corners of the Salish Sea, we are building on our strong history of working across the Canada-US border to protect our shared waters, and ramping up the pressure on decision-makers in both countries.
We love feedback, so please get in touch with any thoughts, questions or ideas about the campaign. Now that we're off and running, we'll be holding a series of town hall meetings and other events across the Salish Sea this summer and fall, so
stay tuned to our events calendar
to find one near you – I hope to see you there!