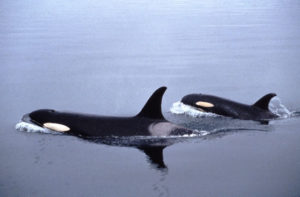 Photo by: Bruce Obee
We are pleased to introduce an addition to the Georgia Strait Communities Atlas, a new chapter of our virtual atlas which explores Species at Risk in the Salish Sea. Over the coming year, we will be releasing a series of interactive Google Earth maps that will be featured on our Communities Atlas website. These maps will provide information about species at risk (such as resident killer whales, nooksack dace, sockeye salmon and rockfish) and why they are considered to be threatened or endangered. In particular the maps will focus on providing information to support the strategies for the recovery of these species as mandated under Canada's Species at Risk Act.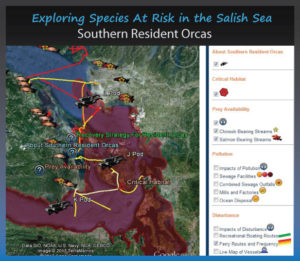 With the generous support of the Schad Foundation, we present the first map in this series which tells the tale of why our southern resident killer whales are a Species at Risk. These whales, found in southern BC and Washington, are considered to be at risk because of their small population size (currently 85 individuals), a loss of prey availability and their exposure to pollution and disturbances from human activity. To illustrate this issue, this map provides interactive information layers that show how southern resident killer whale critical habitat and food sources intersect and overlap with human activity in these areas. Check out the Species at Risk: Southern Resident Killer Whale map here. This map, and the maps that follow, will help us to clearly see that we do in fact coexist with these 'Species at Risk' and that their protection and the reduction of the threats that endanger them is our responsibility and should be a priority for all of us.

Help us Map Species Risk in the Georgia Strait
Would you like to share a story, photo or video of our amazing southern resident killer whales? Help others learn about and witness the majestic beauty of these amazing animals by helping us build a Local Knowledge component to the Species at Risk Maps. Sign up on the website to submit your contribution, and check the Georgia Strait Communities Atlas for the release of new Species at Risk maps and updates!