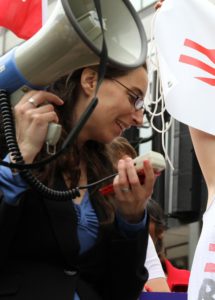 Hello, I'm Alexandra and I have recently joined Georgia Strait Alliance in the new role of Energy and Shipping Campaigner. In the coming months I'll be using this blog to keep you up to date with
our work to stop the expansion of crude oil tanker traffic in the Salish Sea
. But to start, I thought I'd tell you a little about myself and why I'm so thrilled to be working with GSA on this campaign.
I grew up in Vancouver and spent my childhood summers exploring the beaches and forests of the Gulf Islands, the Sunshine Coast and Vancouver Island. My roots in this spectacular place helped to foster my love of the natural world, and my commitment to speaking out against the forces that threaten earth's life support systems.
After studying Geography at UVic, I moved to the UK to do a Master's in environmental communication, and then a PhD exploring what motivates people to take action on climate change. At the same time, I was heavily involved in campaigning against major climate-polluting infrastructure expansion projects, including a new runway at Heathrow Airport and a new generation of coal fired power plants – both of which we eventually stopped. More recently, I led a transit user campaign to overturn the government's plans to drastically increase public transit fares.
All along, I watched as more and more information came to light about the risks of Canada's tar sands – to the lands and waters of Alberta, to our global climate, and to BC's coast in the form of a juggernaut of new pipelines, terminals and tanker traffic. I also watched as a powerful wave of opposition grew, and BC residents came together to say a resounding 'NO' to the Enbridge Northern Gateway pipeline. That experience has provided us with important lessons, new alliances, and most importantly huge momentum that we can apply to stopping Kinder Morgan's TransMountain pipeline proposal, and preventing the devastation it could bring to the Strait.
I feel very lucky to be working back in BC at this exciting time, at a set of decision points where instead of locking ourselves into more climate pollution and more oil spills, we can chart a new course towards a sustainable energy future for BC.
I am also privileged to be joining a team of such passionate and committed staff, volunteers and members, and I look forward to meeting and working with many of you, both online and in the real world. In the meantime, keep an eye on this blog or drop me an email (alexandra AT georgiastrait.org) with any questions, if there is any way I can help you in your work, or just to say hi!