On July 28
th
, Isabelle and I loaded up the car and travelled up-island to attend the
Errington Farmer's Market
. Because we attend so many of them, we have come to see ourselves as market aficionados, and we can safely say that of all the markets we have attended this summer, the Errington Market definitely wins the ribbon for best venue. With vendors' booths situated along forest winding paths, a beautifully crafted stage featuring great local talent, and a concession shack wafting the smell of freshly-baked cinnamon buns throughout the crowd, it is definitely the place to be on a mid-island Saturday.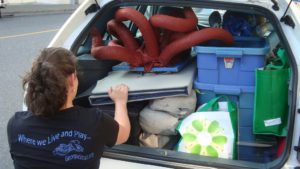 We don't travel light!
Unsurprisingly, given the current media buzz surrounding the pipeline controversy, oil tankers and the Trans-Mountain and Enbridge pipelines were on everyone's minds. We had a number of stimulating conversations on the subject with well informed locals, met some interested tourists, and collected lots of signatures for our oil tanker petition as well. We also had the pleasure of meeting Andrew Hain, the artist behind Crazy Duck Pottery and the beautiful hand-crafted Garden Lantern featured in our summer raffle! His creations are gorgeous. Isabelle and I were very impressed with a number of the kids who came to visit our resident octopus and mermaid; I think there may be some budding marine biologists among them! A big thanks to Suzanne for welcoming us to the market. It was good fun, and I can personally attest to the tastiness of the cinnamon buns!
After the market, Isabelle and I took a quick, two block detour to the North Island Wildlife Recovery Centre. The centre's staff and volunteers work hard to care for and rehabilitate ill or injured wildlife from around Vancouver Island. It was interesting to tour the Centre's grounds and say hello to their many resident unreleasable wildlife rescues. The bald eagles, owls and black bear were especially memorable, and we enjoyed supporting another of the Island's hard working conservation groups!
On Sunday, we woke up to 4am alarms (Ungh.) and caught the first ferry to Tsawwassen on our way to Delta for International Bog Day. The event, hosted by the Burns Bog Conservation Society featured a 5 and 10km "Jog for the Bog", a pancake breakfast, kids' activities, music and more! The race attracted people from all age groups and fitness levels, and many who came for the run, stayed for the fun. Thanks to the Burns Bog Conservation Society for organizing the event and for all the work they do to protect "the lungs of the lower mainland". Here's hoping for an even bigger and better event next year! Also, a big thank you to everyone who supported GSA by buying raffle tickets this weekend!
Though Sunday's event was fun, the highlight of my day occurred as we were nearing the Duke Point Ferry Terminal, when some of the Strait's resident orcas decided to put on a show! It was a lovely way to end the weekend, and an affirmation of what we're working for!
Until next time,
–Deanna