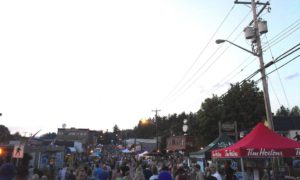 Blackberry Fest Street Party in full swing!
Isabelle and I visited Powell River last weekend.
As neither of us had had the pleasure of seeing the area before, it was a really interesting trip for both of us! We hopped on the ferry from Little River, on Friday morning, and as the weather was gorgeous, we enjoyed the sun on the upper deck, and the views of Texada, Lesqueti, and Powell River. We spent the afternoon doing a little exploring of Willingdon Beach, and the town, before heading down to Marine Ave. to set up for the Blackberry Festival Street Party.
It was evident from the atmosphere and sheer numbers of people that came out to the event that Powell River is a very community-oriented place. There were activities for people of all ages, from live music, a mountain biking exhibition, delicious food, and local craft vendors, to kids activities. As for our booth, many people came over to say "Hi" to our charismatic mermaid, and to find out what our organization was about. Unsurprisingly,
pipelines and oil tanker traffic
were the hot topics of the evening, and we had many lively discussions with individuals on both sides of the debate. After the event finished, we headed to our campsite at Willingdon Beach, and enjoyed watching the town's magnificent fireworks display just steps from our campsite. Powell River really knows how to throw a party!
On Saturday morning, we rolled up our sleeping bags, packed up the car and headed to the
Powell River Open Air Market
. The market is beautifully set up, with permanent vendor stalls, a performance stage, and a concession stand. We enjoyed sampling the local fare (including luscious strawberries, juicy tomatoes, and delicious, delicious croissants). We had several valuable conversations about
marine conservation
, and the
importance of protecting wild salmon populations
with market patrons, and showed off our
Community Atlas Project.
Eager to squeeze the most out of our visit, and see more of the surrounding area, Isabelle and I went for a hike along part of the Sunshine Coast Trail, took a refreshing dip in Powell Lake before catching the ferry. Dark, thundery clouds gathered as we hiked back to the car, but the rain never came, and it was smooth sailing all the way back to Comox!
We'd like to send a shout-out to Cathy McDonald of the Marine Area Business Association, and the folks from the Open Air Market for welcoming us to Powell River, and their respective events. Also, a big thank-you to everyone who came to buy
raffle tickets
and chat with us!
Cheers until next time!