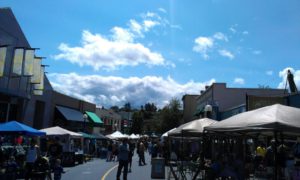 Nanaimo Bathtub Days Street Fair
Photo credit: Deanna McGillivray
As we were booking our summer outreach events in June, Deanna and I realized that we would have to start practicing teleportation if we wanted to attend all of the action taking place around the Strait on July 21st. As GSA's main quarters are located in Nanaimo, we registered early on to be part of the Bathtub Days Street Fair. The bathtub competition, where locals race their motorized tubs from Nanaimo harbour to Departure Bay, is a real tradition in Nanaimo with the first event dating back in the 1960s. For somebody from Southern Quebec, where summer festivals mostly revolve around agriculture and music, this event is quite exotic to say the least. Preceding the bathtub race which took place on Sunday morning, the weekend was filled with community entertainment. Deanna was part of the lively market on Commercial Street Friday and Saturday where she promoted GSA's programs while listening to tunes played by local artists just a few steps from our office door. Deanna had many discussions on species at risk, more particularly on the status of the Southern Resident Killer Whales. With the sun beaming, tourists and locals alike are out and about on the Strait to get a closer look at the whales and other sea creatures.
Another high profile island event that was not to be missed was the Courtenay Market Day held on Saturday July 21st. With over 100 vendors occupying 5th Street, the venue was swarmed with people from as early as 9AM to close to 7PM. It was one of the busiest summer events I have attended thus far. With mounting pressure on political parties to take position on the proposed twinning of the Trans Mountain pipeline, Kinder Morgan's project is increasingly in the spotlight. As weeks pass, Deanna and I have noticed that event goers are more and more aware of the issue, and drawn to our table to voice their opposition and fears surrounding the oil tanker increase in the Strait. On Saturday, more than one hundred people who attended the Market Day in downtown Courtenay signed the petition. I had laid down CPAWS's map of the proposed national marine conservation area in Southern Strait of Georgia next to the petition and Oil Tanker FAQs to emphasize what is at stake.
Thank you to Robyn from DNBIA for organising the lively Bathtub Street Fair and to Kim Stubblefield for putting together an amazing Courtenay Market Day. We also want to thank the vendors and event goers who supported GSA's work by buying raffle tickets.
This weekend Deanna and I will be at the Errington Farmers Market on Saturday July 28 and back in the lower mainland for International Bog Day on Sunday July 29. For more information on those venues and on the other events we will be attending in August, check out the events page of our website.
À plus!

-Isabelle