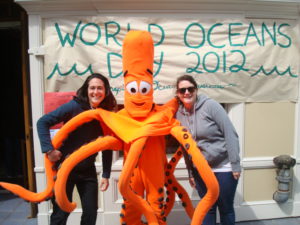 GSA's summer students, Isabelle (left) and
Deanna (right), with the orange octopus
The first year of World Oceans Day in Victoria was a success! It was good to get down to Victoria and raise awareness about the issues in the Strait of Georgia. Although a lot of the people that approached us were tourists, they had a strong interest in knowing more about the place they were visiting. Their enthusiasm was contagious! We enjoyed making friends with the other exhibitors and sampling the many fine products of the Bastion Square Market (Peppers and sauces and baked goods, oh my!). Thank you to all the lovely vendors, exhibitors and visitors who bought raffle tickets, and to the Maritime Museum and Oceans Network Canada for organizing the event! Here's hoping World Ocean Day 2013 is even better and that our friend, the orange dancing octopus returns. All in all, it was a fabulous way to kick off our summer outreach tour!
Stay tuned, we will be at the BC Shellfish Festival in Comox on Saturday June 16 and at Car Free Day on Main Street in Vancouver on Sunday June 17. We hope to see you there! To keep up on where we will be this summer, check out our event page.