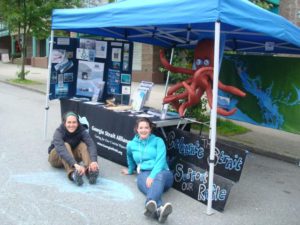 Isabelle and Deanna enjoying the novelty of lying
in the street at Car-Free.
 
Isabelle and I attended
BC 's largest Shellfish Fest
in the lovely town of Comox last Saturday. My, but it was a blustery day! We got a workout chasing after brochures and foiling our crafty tent's repeated escape attempts. However, the wind rather added to the seaside ambiance of the festival, and in no way hampered the enthusiasm of attending shellfish lovers. We enjoyed the delicious smells wafting from the food vendors' booths and from the cups of contest-winning chowder everyone was carrying around. What a great way to celebrate and appreciate what our coastal waters have to offer, and to bring awareness to how much is at stake! We also really appreciated talking with and learning from the
Comox Sierra Club
, and the group from
Coal Watch
about the proposed Raven Coal Mine, and environmental activism. Keep up the great work everyone!
Our dedicated and enthusiastic selves then jumped in the car, zoomed down island, and caught the last ferry to Vancouver (the trip across the Strait was spent performing emergency surgery on our very special Octopus friend).

After a few hours sleep, we were off to
Car-Free Vancouver
on Main St. Despite some VERY ominous looking clouds at the start of the day, we had a fairly nice afternoon (especially by Juneuary standards!). I don't know about the other Car-Free venues, but the Main St. crowd was vibrant, diverse and absolutely FULL of energy! It was interesting to discover which issues in the Strait were of most concern to Lower Mainlanders. Not surprisingly,
Oil Tankers
topped the bill, but
ecosystem health
,
farmed salmon
, and
toxin reduction
were high on the list as well. The day marked the official launch of our Octopus (who is yet to be officially named), and our most successful display to date. Thanks to everyone who came out to chat, participate and buy
raffle
tickets!