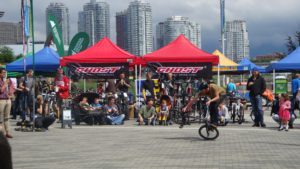 BMX performer Travis Collier at MEC Bikefest
Photo credit: Isabelle Gendron-Lemieux
Deanna and I departed for Vancouver last Friday night to attend MEC Bikefest. Feeling ambitious and in the spirit of alternative transportation, we decided to go car-less. We thus embarked on the ferry rolling our tent and our display material on a trolley. After braving the pouring rain and some technical difficulties (obviously!), we finally made it to our final destination. The next morning when we arrived in Athlete's Plaza and the sun was shining on the exhibitors setting up for Bikefest, we looked at each other and smiled. The ring layout of the event was great and stimulated an engaging atmosphere– it also meant that we got to watch the bicycle demonstrations from our booth! A lot of bike enthusiasts, interested in knowing what a marine conservation organization was doing at a celebration of land-based activities, gathered around our booth to learn more about our new online communities atlas. We also had great discussions about oil tankers in the Strait and alternative energy sources, salmon aquaculture and wild salmon conservation issues, and sustainability in general. Thank you to Adam Hoogeveen from MEC Vancouver for organizing this "superbe" event!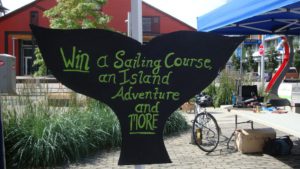 Our new raffle whale tail poster!

After a good night's rest, we packed the car and headed to the Cedar Farmers Market on Yellow Point Road in Nanaimo. Following a great experience at the Bowen Road Farmers Market earlier in the week, we were ready to discover another of Vancouver Island's fine markets. With approximately 50 vendors, the market had a wealth of delicious local food and exciting artisan wares. In the midst of this celebration of local goods, our booth attracted market-goers interested in learning more about us, as well as current GSA members looking for the latest news about environmental issues in the Strait. The sunshine and the great music made for a very festive Farmers Market. Thank you George for welcoming us to the market! We hope to be back later this summer!
Thank you to everybody who bought raffle tickets this weekend! Our new raffle whale tail poster proved successful!
Au revoir et à la prochaine!
– Isabelle