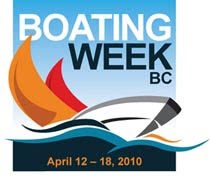 Though the winter has been kind of dark and dreary, a few hardy souls spent some time on our beautiful BC waters, enjoying the delights and challenges that winter cruising brings. For the majority of us however, it's just been the last couple of weeks when we've started to think more about our boats and the wonderful cruising and fishing in the months ahead. A couple of serious blows focused attention quickly on our boats and discussions around climate change was heard more often on the docks.
Though I work in the environmental field, it does seem to me that folks generally are more interested in issues of sustainability and healthy habitats and boaters are no exception! With more people getting into the boating lifestyle BC boating week is a good time for us to promote Green Boating and Clean Marinas.
While there are activities happening all over the province we will be putting our efforts in at some Nanaimo locations. On Saturday we will have a display at the Big Island Inflata-boats Marine Garage Sale and on Sunday we will again be doing a presentation at the West Marine store. Both events are also helping us raise a few funds to assist our marine conservation effort.
As boaters we are stewards of the marine environment and it is up to all of us to keep our impacts to a minimum. Come and join us during BC's "Green" Boating Week to find out more ways you can be a sustainable boater and how your marina can become one of Beautiful BC's eco-rated facilities!