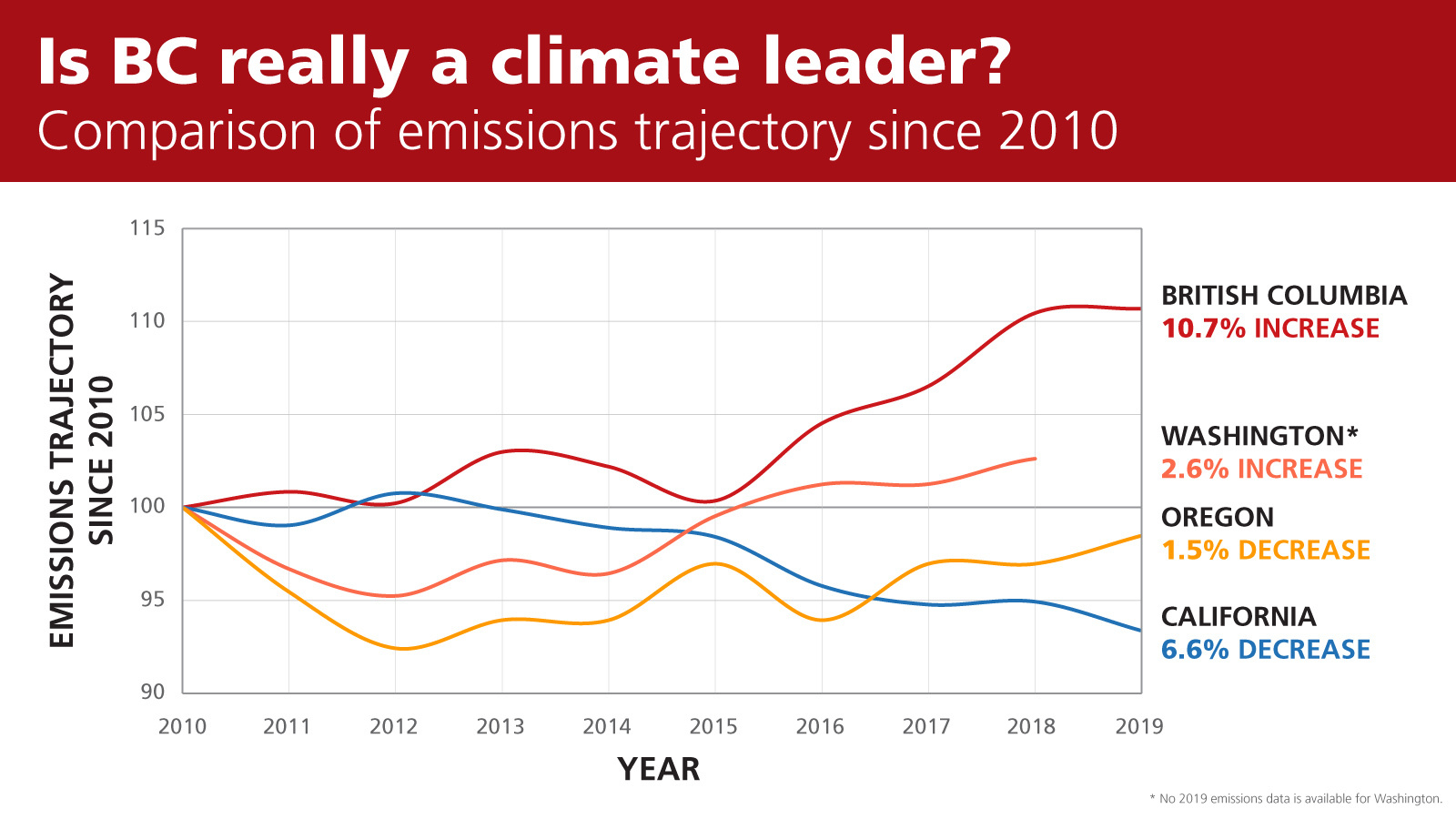 Since 2010, B.C. has experienced a 10.7% increase in emissions, which is considered to be very high. The Province's Greenhouse Gas Emissions inventory shows that in the first year of data available under CleanBC, emissions continued to rise, and the federal inventory shows that they are rising faster than the national average.     
Last week, the B.C. Government released a new suite of climate policies called the CleanBC Roadmap to 2030. The government hailed this new policy package as a continent-leading plan. However an analysis conducted jointly by EcoJustice, Stand.earth, Georgia Strait Alliance, and My Sea to Sky found the roadmap lags behind neighbouring jurisdictions and is an inadequate response to the climate crisis. B.C.'s emissions continue to rise, the Province's climate target is not based on current climate science, and B.C. plans to increase fossil fuel production at a time our neighbours are phasing it out.
The analysis is a side by side comparison of climate policies, in the Pacific Coast Collaborative – an inter-jurisdictional collaboration on climate policy that includes British Columbia, Washington State, California, and Oregon. While all of these jurisdictions need to improve in certain areas, CleanBC lagged behind our west coast neighbours in these key areas:
The adequacy of emissions targets and plans to meet them;

Emission reductions to-date; and 

The future of fossil fuel production. 
"The most important measures of whether a jurisdiction's climate policy is working are whether they bring down emissions, aim for the right target, and address fossil fuels, which are driving climate change," said Sven Biggs, Climate Program Director at Stand.earth. "By those standards B.C. still cannot be considered a climate leader." 
The analysis found that B.C.'s emissions targets are not adequate to ensure that the Province does their global fair share to meet the goals of the Paris Agreement. BC's 2030 climate target of 40% below 2007 levels, if met, will result in emissions of 39.40 Mt – exceeding the IPCC target (34.1 Mt) by 5.1 Mt, and exceeding BC's global fair share of reductions (24.8Mt) by 14.6 Mt.
"California, which is an oil and gas producing jurisdiction, has banned fracking, and set a date to phase out oil and gas production," said Andrew Radzik, Energy Campaigner at Georgia Strait Alliance. "This is what a climate emergency demands. The B.C. government, on the other hand, lavishes billions in subsidies on fracking and LNG to expand their export operations."  
A week before CleanBC's new policy announcement, California decreed that it will stop issuing permits for fracking by 2024, and will phase out oil extraction no later than 2045. Similarly, Washington State has issued a ban on fracking to produce oil and natural gas, and Oregon State has a moratorium on fracking in place until 2025. In sharp contrast, the CleanBC announcement lacked any plan to address oil and gas emissions, and B.C. continues to expand fossil fuel extraction, including with the construction of the LNG Canada terminal, which will add four million tonnes of emissions per year — representing a 30 per cent increase in oil and gas emissions.  
"You cannot have a credible climate action plan without a plan to phase out fossil fuel extraction," said Tracey Saxby, marine scientist and Executive Director of My Sea to Sky. "The B.C. government's continued commitment to fracking and LNG exports is undermining climate action in this province."
Why B.C.'s new CleanBC policies fail to reach the 2021 bar for climate leadership: A Cross-Jurisdictional Analysis of Oil and Gas Policies in British Columbia compared to Washington State, California, and Oregon. Read it here.
-30-