A Cross-Jurisdictional Analysis of Oil and Gas Policies in British Columbia compared to Washington State, California, and Oregon 
Last week, the BC government unveiled a suite of new policies under its CleanBC climate strategy called the "Roadmap to 2030", and promoted it as a "continent-leading" plan. However, the policies were met with lukewarm reception by many environmental groups due to the lack of policies specifically addressing oil and gas emissions – including how the Province will ensure that the currently voluntary oil and gas sectoral target will be achieved. Groups were hard-pressed to identify the policies with which B.C. is leading the continent on climate ambition; some of the best policies – on methane reduction, carbon pricing, and transportation – are consistent with existing federal commitments or follow California's lead. 
A side by side comparison with Washington State, California, and Oregon (all members of the Pacific Coast Collaborative – an inter-jurisdictional collaboration on climate policy) demonstrates that B.C.'s new policies fail to reach the bar of what defines climate ambition in 2021 – and shows where the Province needs to go in order to be considered a leader in this area. The cross-jurisdictional analysis focused on what have become hallmarks of climate ambition:
The adequacy of emissions targets and plans to meet them; 

Emission reductions to-date; and 

The future of fossil fuel production. 
Emissions Reduction Targets & Plans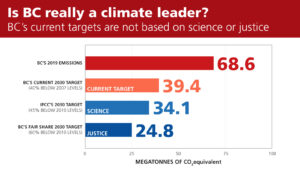 A comparative analysis found that B.C.'s emissions targets are not adequate to ensure that B.C. contributes to achieving the goals of the Paris Agreement. The IPCC has determined that global emissions must decline 45-60% below 2010 levels by 2030 and achieve net-zero by 2050 in order to limit global warming to 1.5 C.  
Note that IPCC's 2030 target is the global average, which is bare minimum for developed jurisdictions like B.C., Washington, Oregon and California. This is not a "fair share" target that accounts for equity and the principle of "common but differentiated responsibilities" and means that developed jurisdictions with high historic emissions and the capacity to reduce emissions should make greater reductions than developing jurisdictions.   
Analysis has demonstrated that Canada's 2030 "fair share" target should be to reduce domestic emissions 60% below 2005 levels and provide international support to developing countries to help reduce another 80% of Canada's 2005 emissions levels. [1] The USA's 2030 "fair share" target would be a 70% reduction below 2005 levels and the equivalent of another 125% reduction in international support.[2]   
Applying this analysis to B.C., Washington, Oregon, and California's 2030 targets, it is clear that these jurisdictions are nowhere near to contributing their fair share towards the goals of the Paris Agreement.
British Columbia's 2030 emissions reduction target of 40% below 2007 levels, if met, will result in 39.40 Mt.  This is 5.3 Mt more than if B.C. were to comply with the IPCC's target of 45% below 2010 levels by 2030, and 14.6 Mt more than B.C.'s fair share.  B.C. has yet to legally enshrine a net-zero target. B.C.'s new climate plan claims it will achieve the 2030 target, but a number of important policies are not yet developed, including those relating to the oil and gas sector.
In comparison, Washington State has a legislated target of net-zero by 2050, [3] and their 2030 target of 45% below 1990 levels would result in even greater reductions than the IPCC's 2030 target.  Washington's 2021 Energy Strategy appears to be adequate to meet its 2030 and 2050 emissions targets. However this is still 20.9 Mt short of Washington's fair share, which is equivalent to a 70% reduction below 2010 emissions.
California's 2030 target does not match the IPCC's 2030 target but California leads the West with a legislated target of achieving net-zero target by 2045. [4] California's climate plan is not sufficient to meet its targets or its fair share, but is currently being updated. 
Oregon's 2030 target is not likely to match the IPCC's 2030 target and it does not have a legislated net-zero target. Its targets are not legislated.  Oregon is not on track to meet its targets or its fair share, however, a new Climate Protection Program is under development.  
Washington State [5] and California [6] also lead on accountability mechanisms, with binding legislative language requiring emissions reductions. BC's Climate Change Accountability Act established targets for the purpose of emissions reduction, but does not make these targets legally binding on the government. 
Real Emissions Reductions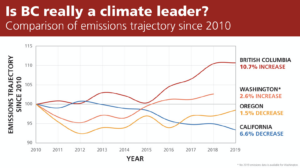 Since 2010, B.C. has experienced a 10.7% increase in emissions, which is considered to be very high relative to other jurisdictions. The Provincial GHG inventory has shown that in the first year of data available under CleanBC, emissions have continued to rise, and the federal inventory finds that they are rising faster than the national average. The most recent IPCC report underlines that strong and sustained emissions reductions are required as rapidly as possible.
British Columbia has a history of missed targets.  In 2008, B.C. set emissions targets for 2012, 2016, and 2020.  B.C. missed the 2012 and 2016 targets and, in 2018, repealed the 2020 target because B.C. was not going to achieve it.
In the same period, California has achieved a 6.6% reduction in emissions since 2010. They reached their 2020 target in 2016 and have kept their emissions below that threshold since. Oregon has seen emissions decline by 1.5%. Washington State has limited its emissions increase to 2.6% (Washington State data is only available up to 2018). 
Phasing Out Fossil Fuel Production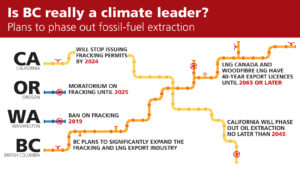 To date, B.C. has no planned phase out for fossil fuel production or use. In fact, in 2018, B.C. approved LNG Canada, an export facility for fracked gas (commonly known as LNG).  The facility is currently under construction and will emit 4 Mt of GHG per year starting in 2025 (not counting upstream emissions).  In 2021, BC approved the Sundance Hydrogen facility, which will use fracked gas to make hydrogen.  Both suggest that BC will be reliant on fossil fuels for the foreseeable future.
In sharp contrast, a week before CleanBC's new policy announcement, California decreed that it will stop issuing permits for fracking by 2024, and will phase out oil extraction no later than 2045. Similarly, Washington State has issued a ban on fracking to produce oil and natural gas, and Oregon State has a moratorium on fracking in place until 2025. 
That same week, Quebec became the first Canadian province to ban fossil fuel extraction in the province. While Quebec's oil and gas industry is not as large as B.C. 's, it nevertheless has ample reserves, as well as existing licenses that will be impacted by this policy. 
In conclusion: British Columbia must further increase ambition to meet the bar for climate leadership
The latest IPCC report published in 2021 called for radical interventions in order to stay below the 1.5 degree temperature threshold in the Paris Agreement. [7] B.C.'s climate policies fail to match – let alone exceed – the bar for climate leadership that has been set by other jurisdictions in North America such as Quebec and California.
_________________________ 
[1] Canada's fair share to limiting global warming to 1.5 C, accessed online: https://climateactionnetwork.ca/2019/12/02/canadas-fair-share-towards-limiting-global-warming-to-1-5c/
[2] The US Fair Share, accessed online: https://usfairshare.org
[3] Washington State Legislature, RCW 70A.45.020, Greenhouse gas emissions reductions – reporting requirements.  Accessed online
[4] California (Sept 2016) Senate Bill No. 32, Global Warming Solutions Act of 2006: emissions limit, accessed 3 Sept 2021 online. ("California, SB-32")
[5]  WA State Legislation, RCW 70A.45.020.
[6] California, SB-32
[7] https://www.ipcc.ch/report/sixth-assessment-report-working-group-i/