Our newsletter is published twice a year by the Georgia Strait Alliance and provides updates on our activities and other items of importance to the marine environment in and around Georgia Strait. It is distributed free in digital or printed form. Hard copies are sent to our members and you can become a member by making a donation of any amount.
---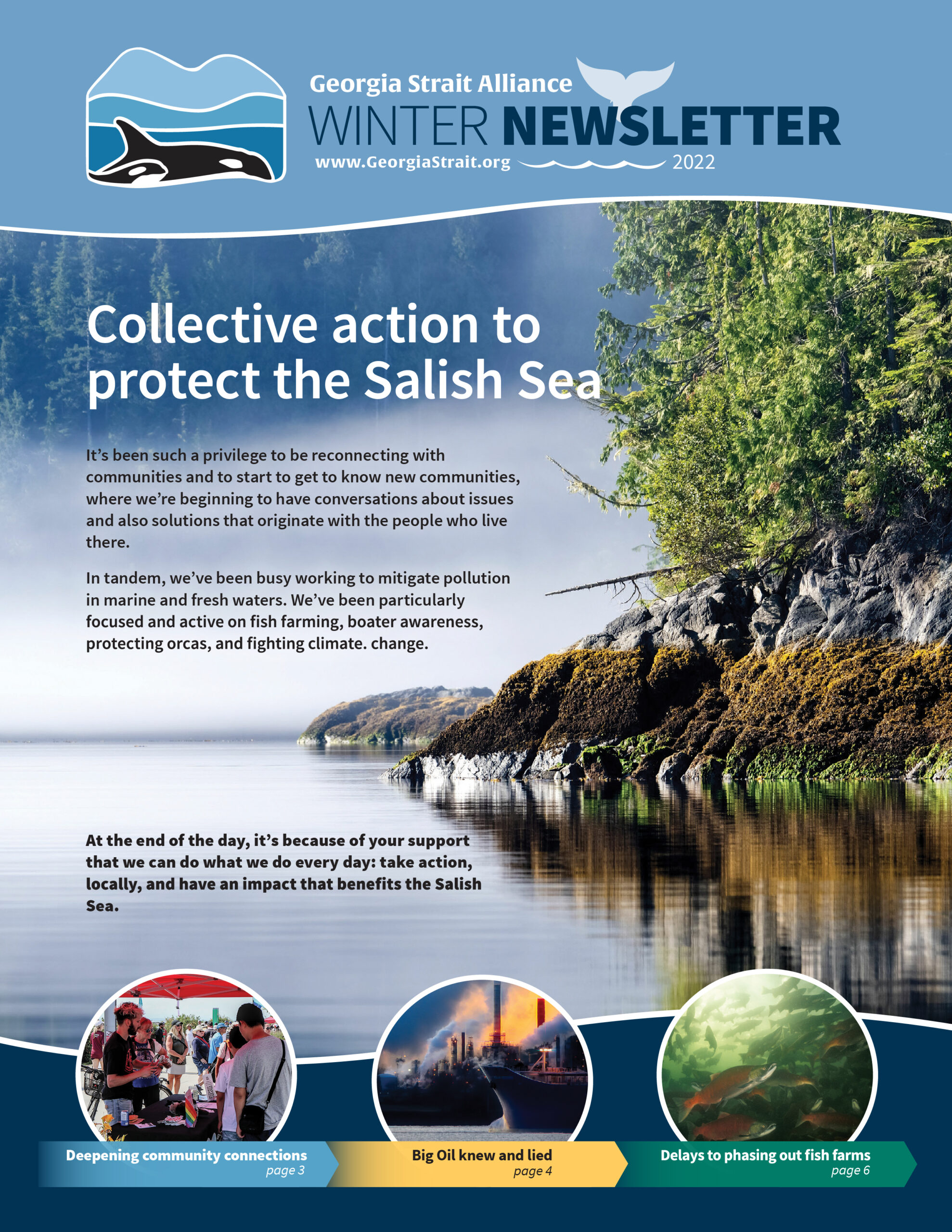 We've been spending more time in communities over the last few months, connecting with people, listening to their climate concerns, and having great conversations about possible solutions that begin with the people who are most affected.
With support from the community and our funding partners, we've been able to:
---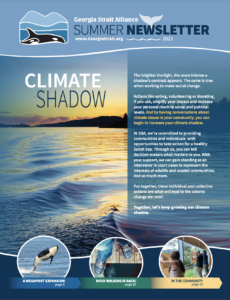 We can amplify our commitment to fighting the climate emergency and protecting regional biodiversity by taking actions that extend our individual reach to social and political levels. These are actions where individuals and communities work together for greater and more impactful social change.
These might include things like having conversations about climate issues in our communities, voting, volunteering or donating, if we can. The sum of these collective actions, accomplished by working together, will help to reduce carbon emissions.
We can envision this as a silhouette that stretches out behind each one of us. Similar to a shadow's contrast appearing more intense when the light source is brighter, the same is true when working to make social change. This is your climate shadow. 
At GSA, we're committed to providing communities and individuals with opportunities to take action for a healthy Salish Sea – and to extend climate shadows for the good of the planet. Through us, you can tell decision makers what matters to you. With your support, we can gain standing as an intervenor in court cases to represent the interests of wildlife and coastal communities – and so much more.
By working with you and in community, we've accomplished so much over the past few months, including:

---

We have witnessed incredibly responsive actions to the COVID-19 pandemic over the last 21 months, making it only ring that much more hollow when government and industry say that the bold actions needed to tackle the climate crisis and protect habitat aren't possible. Inaction is a choice that reveals the degree to which governments are not taking these issues seriously. Not even the recent floods, fires and heat dome deaths in B.C. have spurred immediate climate action.
At GSA, our advocacy for climate change action is not only seen in the direct policy work we've done but also in our efforts to protect Southern Resident orcas and salmon, and the entire Salish Sea and  surrounding communities, like yours, because it is a life source that both marine and human ecosystems depend on. 
Tackling these challenges can seem overwhelming but change can be made when we work together, and work locally – and examples of what we've accomplished, with your unwavering support, since the summer include:
---
The global pandemic has reminded us of the interconnectedness of all living beings, highlighting that we are truly on a shared journey with responsibilities and that our individual actions impact one another locally and far beyond. The stories in our Summer Newsletter shed light on the hard work of GSA's staff, who have done incredibly impactful work, and remained dedicated, resilient and caring as they adapted over these past many months.
Here's what you'll find in these pages:
---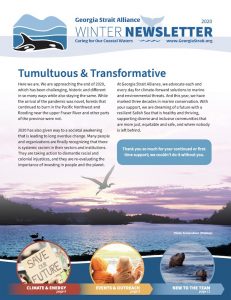 2020 has been a big year that has been tumultuous and transformative, and different in so many ways while also staying the same. Discover the successes that Georgia Strait Alliance has had over the past few months as we have continued to advocate each and every day for long-term, climate-forward solutions to marine and environmental threats. These include:
---
As we all continue to settle into life with the COVID-19 pandemic, please take a few minutes to read our newsletter to discover how we've shifted the way we're doing our work, as well as how we're becoming better allies and advocates for the health of the Salish Sea and all of its communities. You'll also find articles and information about Georgia Strait Alliance's biggest accomplishments over the past several months: each and every one of these were made possible by the community of supporters that motives every day. Discover more about Georgia Strait Alliance's commitments to:
---
Before you turn your attention to celebrating the holidays with family and friends, we hope you will take a few minutes to read our newsletter. You will find many accomplishments worthy of celebration – and you made them all possible with your support. Together we:
---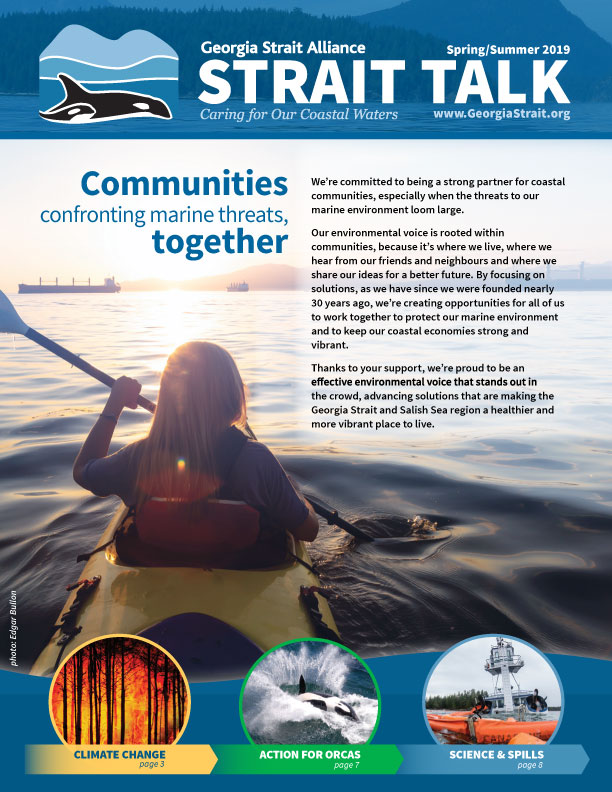 Learn about how, with your support, we have:
---
---
Gathering, celebrating and mobilizing – Moving mountains to defend our coast: if we protect the Strait, we are protecting the orca from the host of risks associated with increased tanker traffic. Reasons to celebrate: we joined thousands to protest the Kinder Morgan pipeline project, raised money with good food and art. State of the waterfront: we've released the first-ever State of the Waterfront Report for Vancouver. Partnering to support marine outreach: challenging kids to create a video about helping to improve the health of the oceans and doing outreach with local business to raise awareness about southern resident orcas.
---
Providing fun community events such as Water's Edge Day, where people can connect with their local Salish Sea – Building on our accelerated and expanded efforts to give orcas a voice, to bring awareness to and highlight the severity of the current situation, and to advocate for concrete measures that can restore the species' critical habitat in our coastal waters – Supporting actions that lead to delays in Kinder Morgan's pipeline and tanker project, because "climate leaders don't build pipelines" –  Helping more boating facilities keep our waters clean by implementing environmental best practices through our Clean Marine BC eco-certification program.
---
A new world of alternative facts: how can consensus be built for the kind of world we want to live in when facts are optional? – Urgent action or extinction: an update on the next steps needed for the orca action plan – Clean Marine BC expands to prepare marinas for oil spills – How to stop Kinder Morgan – State of the waterfront: Preliminary analysis is done – Worlds away from 'world-leading': Only a name change to spill response in BC – snapshot of our first Wine on the Waterfront event.
---
Paddling through healing waters, reflections on the joys of getting out and around the Strait – BC's message to the federal government: Kinder Morgan will not be built, plus Local leaders unite against Kinder Morgan, Why Kinder Morgan fails BC's five conditions and an update on oil spill response – Back in Motion: our work begins again on the National Marine Conservation Area in the southern Georgia Strait –  Dialogue turns into action as the derelict vessel Viki Lynn II is successfully removed from Ladysmith harbour – Highlights from Water's Edge Day
---
Bridging Boundaries – You Can Stop Kinder Morgan, find out how you can have your say this summer – Leaving a Legacy: important information on how to – Hope on Derelict Vessels and welcome to new CMBC members – Will the Province get it right on spill response in BC? – What is the Waterfront Initiative and program update.
---
A Win for Coastal Communities – The Power of Hope – Unexpected turns on the Kindermorgan Rollercoaster – Water's Edge Day, and an update for Waterfront Initiative – Birthday parties photos – Meet our Board – Back from the brink, a success story of the recovery of purple martins in Ladysmith, Thousands of litres of oils, solvents and paint on board, the treat of derelict vessels – Meet our new staff and much more
---
Vancouver spill is the wake-up call we need – A waterfront for all, GSA holds its first Citizen's Forum and more – Ride the groundswell with CMBC – Preparing and responding to oil spills at the local level – Hitting the streets to Save the Salish Sea – Squamish fire, more proof of unpreparedness – Our 25th Anniversary; our website upgrade, a look at our achievements, who makes them possible and how you can get involved! – Meet our new Board of Directors – and much more!
---
How Vancouverites connected with the water on Water's Edge Day – Join the conversation to envision a positive future for Vancouver's waterfront – We're glad it's not oil, yet! See some locations where drift cards washed up around the Salish Sea – Our cross-border campaign takes flight, join the movement at www.SalishSeaAction.org – Communities can lead where governments fail to do so – Gabriola Islanders Help the Kelp, how citizen scientists are mapping the local kelp beds – Are there local impacts from Fukushima? – Meet our new Board of Directors – and much more!
---
Kinder-Morgan's Trans-Mountain pipeline proposal is now before the National Energy Board – How far could spilled oil travel along B.C.'s coast? Our drift-card study offers an unsettling answer – The Waterfront Initiative begins building its vision for Vancouver's shoreline by hosting its first Network Forum – Margaret Sizmann Estate benefits GSA – Meet our 2014 summer students, Natalie Drope and Ryan Butler and new Director, Rachel Forbes – CMBC applauds Shelter Island and Maple Bay Marinas for their recent four-Anchor environmental rating.
---
False Creek Harbour Authority earns top eco-rating – Kinder Morgan campaign, our spill map shows what's at stake – LNG: coming soon to Georgia Strait? – Ensuring your voice is heard in challenging times for charitable organizations – Vancouver Waterfront Initiative, where our community's connection with the ocean begins
---
Save the Salish Sea campaign heats up – Find out about the next step in our waterfront vision – Learn how GSA is setting the stage for change – Take the Green Boater pledge – Some good news for Orca protection from acoustic noise – and much more!
---
The launch of  "Save the Salish Sea" – an initiative to oppose the Kinder Morgan expansion – Our assessment of the BC election results – Details on the re-launch of our "Stewards of the Strait" program – The latest on our exciting and unique "Waterfront Initiative" to build healthy waterfronts – A beautiful profile of a long-time supporter who left a bequest to GSA – Some amazing pictures of our work and our region, and much, much more!
---
Kinder Morgan ups its bid – and the risk – It's not just oil we're shipping out – Kits base closure – Holding the torch high – together – Valuing and protecting our waterfront: an exciting new initiative – Telling the story of Species at Risk – Protecting whales beyond borders – and much more…
---
New member of Clean Marine BC – Take Action on Tankers and Thinking Beyond Tankers – Staying hopeful in the face of attacks on environmental regulations – National Marine Conservation Area: with your help we can pull it off! – AGM highlights – Would you like to buy an island? – and more…
---
Growing opposition to the increase in tankers on our coast – new Communities Atlas launched – island beaches cleaned up thanks to partnership with CCCU employees – closed containment pilot project proves successful – fish farm diseases threaten wild salmon – end-run around the public: fish farms to expand – new skipper at the helm of our Clean Marine BC program – vessel sewage law now in force – 'Celebrate the Strait' Raffle and more…
---
Another win for the whales! – tar sands and tankers: key issue for the south coast – Protection Principles Project: we want to hear from you – protecting wild salmon: Cohen Inquirey hearings reveal shocking cover-up – ending the sea lice debate – time to clear Wild Salmon Narrows – acid attack: why we must act now – keeping our beaches clean – GSA is partnering with Coastal Community Credit Union employees – Clean Marine BC update – and more…
---
Milestones for marine life protection – send an 'ocean of love' – making marine conservation matter – AGM combines business and fun – Clean Marine BC update – a citizen's primer on tankers in Georgia Strait – closed containment salmon aquaculture taking off – looming infectious salmon anemia (ISA) crisis – making sense of the Cohen Inquiry – and more…
---
DFO ordered to pay – Celebrate the Sea Raffle – planned giving through insurance – fish farm proposed for Biosphere Reserve – "organic" salmon – new additions to Clean Marine BC – mapping update – sockeye inquiry problems – ship to be sunk in marine park – sewage news and more…
---
Legal fight for orca – National Marine Conservation Area for Strait – Community Map taking shape – 20 Year Celebrations photo wrap-up – 10 Years of Green Boating – Spring Cleaning for Wild Salmon Narrows – Milestone for closed containment – Donating RRSPs and RRIFs and more…
---
Risk of major oil spill here – now – Cohen Inquiry – Helping during down times – Clean Marine wave grows – Fraser sockeye abundance vs. recovery – Victory in Victoria – Salish Sea connectedness – Remembering Jim Bohlen – Raffle winners and more…
---
Metro Vancouver sewage decision – Strait Profits – New Eco-Rated marinas – Celebrating 20 years – Daring Paddle for GSA – Mapping what's special – Ship sinking stopped – Cathy Booler profile and more…
---
BC's First "Four Anchor" Marina – Turning Twenty – New Endowment Fund – Sewage Successes – On the Road for Wild Salmon – Green Spring Maintenance for Boats – Ruby Berry Profile and more…
---
If you are interested in archived issues from 1992 through 2009, please contact our office