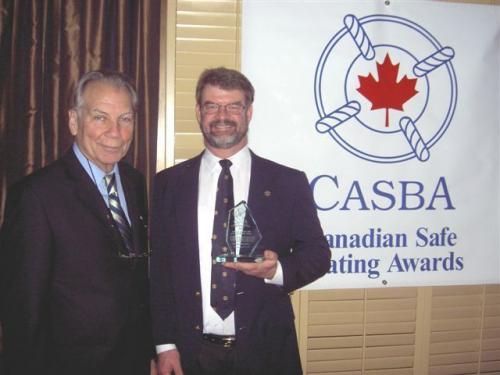 Mike (R) with Bob Eaton of Clean Marine Ontario
Georgia Strait Alliance's (GSA) innovative Green Boating program was honoured with the Canadian Safe Boating Council "Safeguarding the Environment" Award at the recent Canadian Safe Boating Award (CASBA) ceremony held January 13, 2008 in Toronto.
Receiving the award on behalf of the Georgia Strait Alliance was Green Boating Program Coordinator Mike Richards, who has been at the helm of the program for nearly 7 years. "This award is a wonderful honour and we're very proud that the Green Boating program was recognized," says Mike Richards. "Through this program, we've helped BC's boating community reconnect with the waters they love so much and help to keep these waters clean for generations to come."
Georgia Strait Alliance has been supporting boaters with the Green Boating program since 2000 when it launched its popular Guide to Green Boating. The program has evolved to include three dynamic initiatives. The Bilge pad project distributed over 28,000 bilge pads to boaters in the Victoria, Vancouver and Nanaimo areas. The proposed Ocean Solutions project aims to supply, maintain and service a network of solar-powered "ecodock" pump-out wharfs along British Columbia's coast. Finally, GSA recently launched the Clean Marine BC, a very exciting environmental recognition program for marinas and boatyards in British Columbia.
"The Green Boating Program is an example of how Georgia Strait Alliance works to find solutions to environmental challenges," says Deborah Conner, GSA's Executive Director. "By working with communities like boaters, we're finding ways to continue to enjoy our coastal waters without endangering them."
An important part of the program's success has been its coordinator, Mike Richards, who has led solution-based initiatives focused on policy, advocacy and public education. Mike is a lifelong boater, who has also had a career as a member of the Royal Australian Navy and as a professional fisherman. Mike has close connections with the ocean as he and his family have lived on their beloved classic sailboat since 1999 and have cruised much of the Pacific coast. Mike's formal education is in Environmental Science, Education and Program Development. Formed in 1990, Georgia Strait Alliance is the only citizens' group working to protect and restore the marine environment and promote the sustainability of Georgia Strait, its adjoining waters and communities, the place where 70% of British Columbians live, work and play.
For further information, please contact:
Mike Richards, Green Boating Program Coordinator, cell: 778-868-8877

Christianne Wilhelmson, Managing Director, 604-633-0530