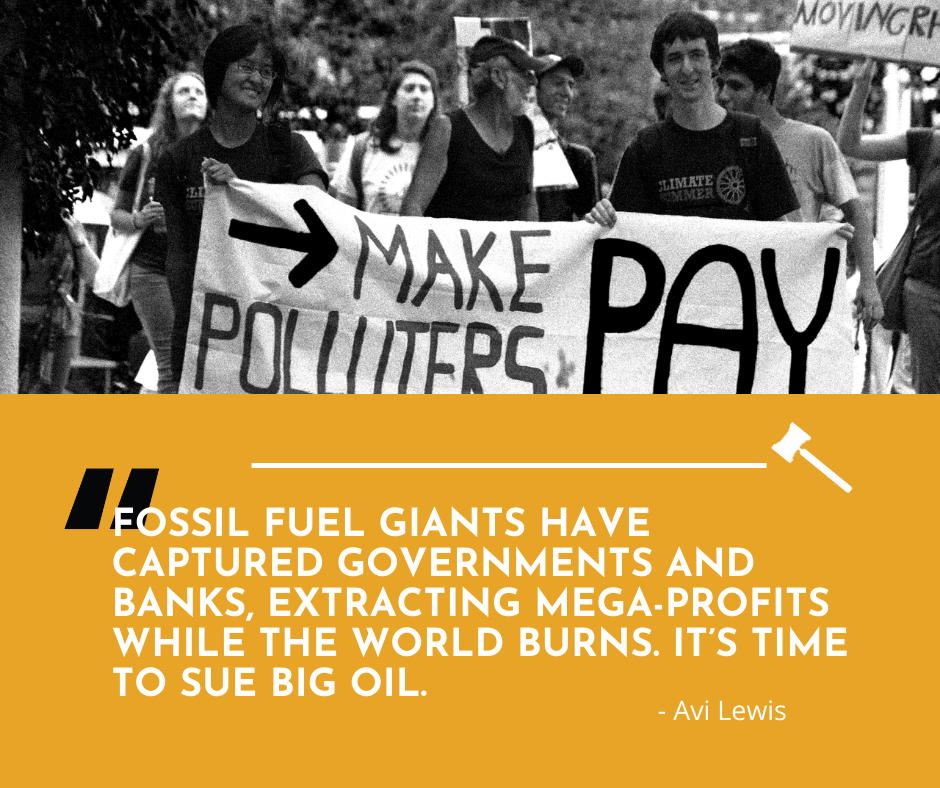 VANCOUVER/Musqueam, Squamish & Tsleil-Waututh Territories – The Sue Big Oil campaign applauds the City of Vancouver's historic vote this afternoon [6-5] to allocate funds towards a future class action lawsuit by local governments against global oil and gas companies for climate costs. The commitment is a first step in the Sue Big Oil campaign's call for BC local governments to protect their taxpayers from paying the full climate costs that they are experiencing – such as sea wall repairs or protections from extreme heat – by working together to bring a lawsuit against the world's most polluting oil companies.
After the extreme heat, wildfires and catastrophic flooding that occurred in 2021, Vancouver and other municipalities around the province are increasingly recognizing what climate change could end up costing them – both in damages and adaptation. The Insurance Bureau of Canada estimates that Canadian local governments should collectively spend $5.3 billion each year to prepare for climate impacts, and Vancouver is expected to spend $1 billion in the coming years to address rising sea levels fueled by climate change.
"We are thrilled by this historic decision, and call on other BC local governments to match Vancouver's commitment. Committing to set aside $1 per resident to allow the city – and other BC municipalities – to bring this class action lawsuit against the world's top polluters will protect taxpayers and recover a share of climate costs currently borne by local governments. When oil giants like Shell, Chevron, Exxon Mobil and others face financial and legal risks for the damages caused by their products, they, as well as investors and governments, will start making business decisions that are better for our future," said Andrew Gage, a Staff Lawyer with West Coast Environmental Law.
---
"By voting in support of the motion to fund suing Big Oil, Vancouver joins a rising global movement for climate accountability. These companies have lied, and profited in the trillions, and have not had to pay for the damage their products caused. It's time for Big Oil to pay their fair share. This council understands that, and council members should be proud of their vote." said Andrew Radzik, Energy Campaigner at Georgia Strait Alliance.
The Sue Big Oil campaign is a coalition of BC organizations and individuals who are calling on BC's local governments to fund – in the amount of $1 per resident – a class action lawsuit against global fossil fuel companies. It is a "home-grown" effort launched to ensure BC taxpayers are not on the hook for climate harms caused by the fossil fuel industry. West Coast Environmental Law and Georgia Strait Alliance are two of the partner organizations working together on the Sue Big Oil campaign.
Similar lawsuits have been filed in Switzerland, Germany and the U.S., and a lawsuit against Shell in the Netherlands was successful last year. Contrary to recent media reports, West Coast Environmental Law has no expectation that it will be paid by local governments or profit from the case.
–30–
For more information, visit www.suebigoil.ca