Media Release
For Immediate Release: June 26, 2001
Fish farms are likely the cause of a devastating outbreak of sea lice that threatens millions of juvenile wild salmon around northern Vancouver Island, according to local experts.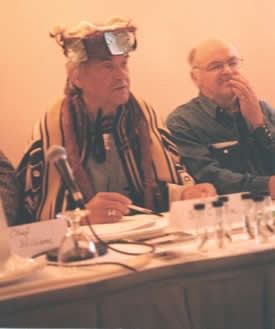 Principal spokesperson Chief Bill Cranmer, with Billy Proctor.
First Nation chiefs and fisheries experts held a news conference in Victoria today to declare their concern and state their demands for action from responsible government authorities.
The outbreak was discovered in the Broughton Archipelago about a month ago. An estimated 400 million wild salmon fry will likely die as a result of the infestation, with this number rising each day that no action is taken. To date there has been no official response from the federal Department of Fisheries and Oceans to the crisis despite requests for assistance from concerned residents.
To prevent this problem from getting worse and from happening again, Chief William Cranmer, Chairman of the Musgamagw Tsawataineuk Tribal Council read a list of demands, including the removal of fish farms from his traditional territories, a continuation of the provincial moratorium on new fish farms and rapid response from government scientists to study and remedy the situation.
"The fish farm industry has desecrated our territory," said Chief Percy Williams, the elected leader of the Kwicksutaineuk Ah-kwa-ah-mish Tribes. "Our people are prepared to do what it takes to protect our water, land and resources" said Williams.
Without prompt government response, "we are put in the position of taking direct action to protect our elders and the future of our people," warned Chief Charlie Williams, hereditary chief of the Gwawaenuk Tribe.
"The moratorium (on new salmon farms) must stay in place," said Chief Simon Lucas of the BC Aboriginal Fisheries Commission.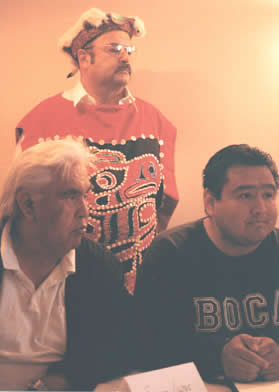 Simon Lucas, Richard Dawson (standing) and Chief Percy Williams.
Sea lice are one of the most serious problems facing the salmon farming industry worldwide. Outbreaks on farmed salmon are common and are known to cause high mortality. Major outbreaks have occurred in Norway, Scotland and Ireland, where farmed salmon operations have been in place for years and wild salmon stocks have crashed.
Sea lice do occur on wild salmon, but are normally present in low numbers and have seldom been observed in any number on juveniles. Outbreaks like the current one are associated with dense crowding of salmon as occurs in netcage farms.
Lifetime area resident and fisherman Bill Proctor first observed the infestation on wild spring salmon near his home on Gilford Island. "I've never anything like it in my lifetime. Fish farms are destroying wild salmon in the Broughton Archipelago," said Proctor. "The farms are the problem."
Researcher Alexandra Morton has been studying the outbreak from her lab at Echo Bay since infected wild pink salmon smolts were first discovered. Her survey of over 600 samples, taken from 43 sites over 17 days, revealed 34% of the fish are infected at a lethal load. "Based on predicted migration of 12 billion juvenile pink salmon out to the sea over the next few weeks, over 400 million young salmon will likely die as a result of the infestation," said Greg Rebar, a fishing lodge owner and former fish farm manager who is Morton's neighbour and has also been monitoring the situation closely.
The Broughton Archipelago is a complex of islands north of Vancouver Island, near Port McNeill and Alert Bay. The area has been targeted by fish farm operations because of the many sheltered inlets and abundant, clean water. The farms use bright lights at night to enhance growth, and it appears that the lights are also fuelling the rapid growth of sea lice. Wild salmon and other fish are attracted to the lights and this is likely increasing their exposure to the parasites on the farmed fish.