Georgia Strait Alliance innovator honoured
April 9, 2008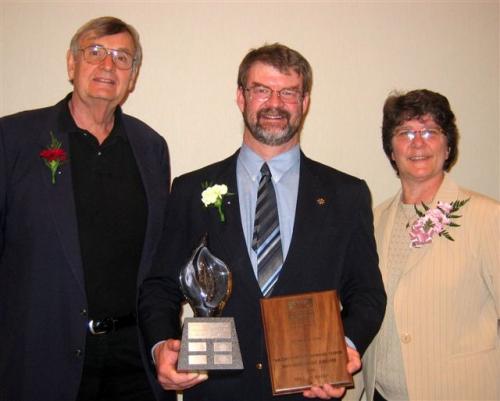 NANAIMO,BC – Georgia Strait Alliance's (GSA) long-time and innovative Green Boating coordinator, Mike Richards, was honoured with the Yachtsman Spring Thaw Environment Award at the 25th Annual Yachtsman's Spring Thaw Luncheon, held April 4, 2008 in Toronto. As the first British Columbian to receive this national award, Mike was honoured for his work over the last 8 years supporting the Georgia Basin's recreational boating community in their efforts to reduce their impacts on west-coast waters.
Georgia Strait Alliance has been working with boaters through its Green Boating program – a solution-based initiative focusing on policy, advocacy and public education – since 2000 when it launched its popular Guide to Green Boating. GSA was honoured with a Canadian Safe Boating Award (CASBA) for this program in 2001 and again earlier this year. Under Mike's leadership, the program has evolved to include three dynamic initiatives. The Bilge pad project, operating in Victoria, Vancouver, and Nanaimo, distributed over 30,000 absorbent pads, which are designed to soak up hydrocarbons before they are introduced to the water. The proposed Ocean Solutions project aims to supply, maintain and service a network of solar-powered "ecodock" pump-out wharfs along British Columbia's coast. Finally, GSA recently launched Clean Marine BC, a very exciting environmental recognition program for marinas and boatyards in British Columbia.
"This award is an unexpected honour and I'm humbled to receive it," says Richards. "Personally, I'm very proud of what the Green Boating program has become and how the boating community is working so hard to protect the waters they love."
Mike Richards is a lifelong boater, who has also had stints as a member of the Royal Australian Navy and as a professional fisherman. Mike has close connections with the ocean as he and his family have lived on their beloved classic sailboat since 1999 and have cruised much of the Pacific coast. Mike's formal education is in Environmental Science, Education and Program Development.
"Mike Rich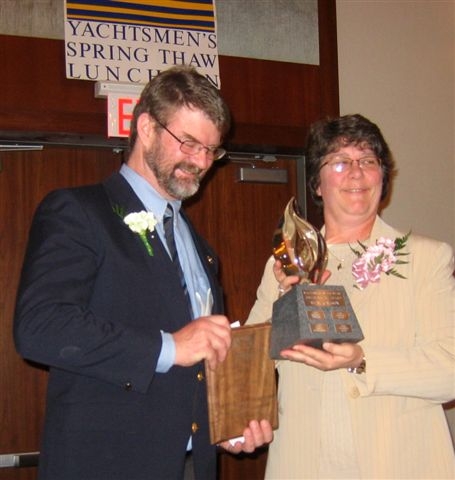 ards' ability to work with diverse groups and find solutions that are best for everyone has been key to the success of the Green Boating Program" says Deborah Conner, GSA's Executive Director. "He has used his many skills to identify challenges and create leading-edge projects that support commercial and recreational boating enthusiasts who are concerned about the marine environment. His work has made a measurable difference to the health of our region, and we're thrilled that he has been honoured."
The Yachtsmen's Spring Thaw Luncheon is Ontario's traditional kick-off to the boating season and was a fundraiser for the Toronto Brigantine, a not-for-profit charitable organization that works with youths aged 13 to 18, teaching valuable life skills including: seamanship, self-reliance, teamwork, leadership, marine navigation and piloting, dependability, and respect. Mike was nominated for this award by Bill Milne of Alex Milne and Associates, makers of Natural Marine products.
Formed in 1990, Georgia Strait Alliance is the only citizens' group working to protect and restore the marine environment and promote the sustainability of Georgia Strait, its adjoining waters and communities, the place where 70% of British Columbians live, work and play.
For further information, please contact:
Christianne Wilhelmson, Managing Director, 604-633-0530
Mike Richards, Green Boating Program Coordinator, 250-753-3459