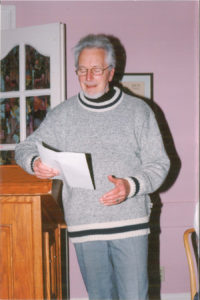 Peter, who passed away in the fall of 2012, had been one of GSA's earliest members, right from our inception in 1990. An outstanding supporter and, from very early on, a generous monthly donor, Peter chose to extend his support to GSA even after his death, by making a bequest in his will. For this we are honoured and grateful.
Peter had a lifelong commitment to humanitarian and environmental causes. He was involved in the peace and disarmament movement, and in the early '80s joined Vancouver Island activists in the effort to get US nuclear submarines out of Nanoose Bay. He contributed funds, wrote innumerable letters to government, circulated petitions, marched for peace and was even arrested for sitting in the road at Nanoose.
Through that campaign, he developed a friendship with fellow activist Laurie MacBride, and in 1990, when she went on to co-found Georgia Strait Alliance, Peter became a stalwart supporter of GSA. To Laurie's surprise, he signed up for a relay swim team in the Save the Strait Marathon that summer. He was possibly the oldest swimmer taking part, and she recalls that he outswam a good number of his younger teammates.
Peter was always helpful, providing GSA with good ideas, contacts and financial support. He wrote letters to government about the issues we were tackling, signed and circulated our action alerts, promoted GSA within his network, and found other creative ways to help—for example, donating the proceeds from the sale of his car when he decided to stop driving.
Peter's health declined steeply in the last decade and a half of his life, so he was unable to take part in the same ways. But for most of the rest of his life he stayed in touch, with phone calls and frequent written notes about the issues we were addressing, and compliments on our work. These communications provided an important morale booster for us.
Although he was passionate about the issues he cared about, Peter always managed to express hope and humour, even during the last few years of his life when he was essentially bedridden. His respectful listening and gentle approach to others made him an excellent model for anyone aspiring to be an effective activist.
Over more than two decades, Peter's financial, practical and moral support kept us going in more ways than he likely ever realized. We're grateful for all that he contributed during his lifetime, and for his decision to support GSA even after his death. While most of us have a hard time imagining how we might be able to help our communities after we're gone, Peter clearly thought about how he could help the region he loved, and put those thoughts into action in the form of a bequest.
We miss him, and our hearts go out to his wife, Pat, and their family. We hope they can take some comfort in knowing that GSA will put Peter's final gift to the most effective use possible, so that the environment he loved will remain beautiful and sustainable for all to enjoy.