Christianne Wilhelmson — Executive Director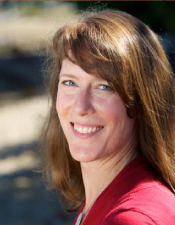 Christianne has been the Executive Director of the Georgia Strait Alliance (GSA) since 2010 after spending 6 years as the organization's Clean Air and Water Program Coordinator. She is an Ontario transplant who came to BC in 1995 to pursue a MSc in ecology at UBC and, like so many, stayed on after graduation. Past experience includes time as a lab technician and freelance science writer. Christianne leads Georgia Strait Alliance's government and media relations efforts, along with supporting GSA's strategic campaigns and programs. She has a deep passion for social change and connecting with people across sectors to build a better future for our communities. In her time off, she enjoys cycling and yoga – all prerequisites to being a Vancouverite – along with cooking/baking, kayaking, gardening and sailing with her husband. Christianne is the Past-President of the PuSh International Performing Arts Festival Board of Directors and a Founding Board Director and Vice-President of The Elbow Theatre Society. She is an aunt to 7 amazing kids and godmother to 3 more.
---
Cathy Booler — Administrative/IT Director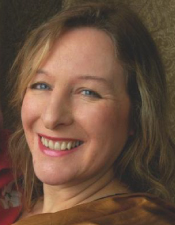 For over 20 years Cathy feels as if she's been weaving the components of GSA's technical and operational framework from the ground up.  Assisted in this, by many staff, board, volunteers and other experts over the years, she works to enact solutions to grow our organizational capacity, ensure that GSA's initiatives reach the right people and that our interactions with people and organizations are tracked and useful to help the organization learn and grow.  Cathy has a BSc in Biology from Trent University and her passion lies in getting the word out about the need to change our behaviours and our societies for a better future.  During her time with GSA, Cathy has filled a variety of roles within the organization and continues to enjoy the dynamic aspects of charitable work. Cathy works from the Nanaimo office and loves living and working in Nanaimo.  In her spare time, her foremost passions are her amazing family, friends, community and getting out and enjoying the natural west coast.
---
Michelle Young — Financial Coordinator/Clean Marine BC Program Coordinator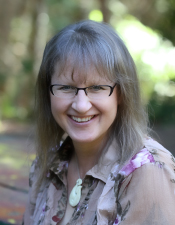 Michelle is a Chartered Professional Accountant with a Bachelor of Business Administration and Certificate in Liberal Arts from Simon Fraser University. Starting with GSA in 2007, she has held several positions, including Salmon Aquaculture Campaigner, and splits her time between her two current roles. She enjoys hiking with her dog Beazley, photography, and gardening, as well as getting out on, or in, the ocean by whatever means possible. Michelle has lived on four islands on BC's coast and has most recently settled in the Gulf Islands on Gabriola.
---
Cheryl Onciul — Development Manager – Grants & Major Gifts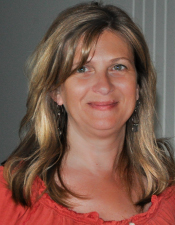 As Development Manager for Grants and Major Gifts, Cheryl is responsible for raising hundreds of thousands of dollars annually in support of GSA's marine conservation work. Cheryl has been a professional fundraiser for more than a decade, managing capital campaigns and annual programs for international, national, and local charities. She has also worked in publishing and communications and holds a BA in English. An active member of her community, Cheryl is committed to the health of our environment and building strong, resilient communities. Cheryl and her husband Rod live near Ladysmith with their two children, Ava and Sam.
---
Alexandra Woodsworth — Energy Campaigner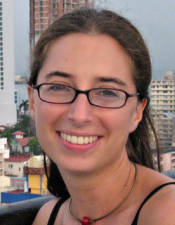 Alexandra holds a BA and MSc in Geography and a Ph.D. in Environmental Sciences and comes to GSA with 10 years of grassroots organizing on climate and energy issues under her belt. She has worked on high profile campaigns in the UK to stop airport expansion, the transition away from coal power, and reduce public transit fares. Born and raised in BC, she is excited to be back in her home province working to protect coastal waters, communities and the climate from the juggernaut of new fossil fuel export projects proposed for the shores of the Salish Sea. She leads GSA's Tankers and Spills program and is based in Vancouver.
---
Rebecca Adams — Graphics and Web Development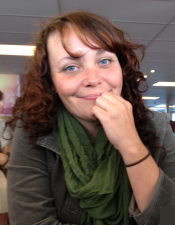 Rebecca has worked in landscape gardening and design. She worked previously with GSA to develop and deliver our popular ToxicSmart program as well as a survey for the CRD and BC Environment on pesticide use. Rebecca enjoys gardening, painting, traveling, and meeting new people – she particularly enjoys learning about the different ways that people interact with each other. She's excited to apply her experience in such a creative and meaningful way!
---
Dan Straker — Waterfront Initiative Lead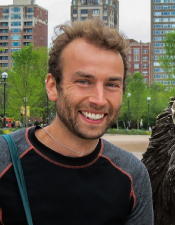 Dan holds a BA and DipTech in natural resource management. After a stint in environmental consulting, he made the switch to the non-profit sector working with the Stanley Park Ecology Society as Urban Wildlife Programs Coordinator. His work there focused on educating the public and raising awareness for urban wildlife species in Vancouver, coordinating the Co-Existing with Coyotes program as well as Vancouver Bird Week for the past two years. Born and raised in Vancouver he has spent a lot of time in and on the waters that surround it. He is excited to be helping to build a shared vision for Vancouver's waterfront with people like you.
---
Anita Noon — Member Services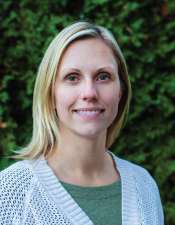 Anita joined the Nanaimo office where she works as a member services representative. In addition to being on the other end of the telephone for you, other GSA members and potential members, she'll be ensuring the office runs smoothly. Anita holds a BA in Economics and Global Studies from Vancouver Island University and has a background in customer service and finance. She's also an avid photographer, with a great passion for capturing the beauty of Strait of Georgia. Anita and her husband Jim live in Ladysmith, and together with their three daughters, they spend a lot of time in the nature surrounding the Strait of Georgia by boating and hiking.
---
Allison Murray — Communications Associate
While studying a Master's in Communications, Allison got her break as a newswire reporter – the first step in her decade-long career in the field of communications. Since then she's experienced nearly every angle of the communications spectrum, working as a public relations and marketing-communications practitioner at agencies in Vancouver and Miami, leading a national magazine as editor-in-chief, and working as a communications manager at the headquarters of a financial institution in Vancouver. In the past few years, Allison has also started to work with local non-profit organizations. Allison lives in East Vancouver with her husband, their toddler, and the family dog. She likes to go running, read, drink lots of coffee, and make regular visits to New Brighton Park as she's learned that toddlers and dogs do well in large, open spaces where they can't destroy anything.
murraycommunications [at] yahoo.com
---
Katie Rasmussen – Marine Planning Coordinator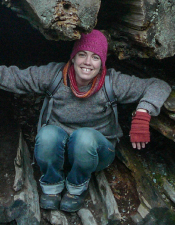 Katie is a settler who grew up on Treaty 4 land, the territories of the Nehiyawewin and Nakawe Nations, also known as the beautiful Qu'Appelle valley of Saskatchewan. Her relationship with and profound love for the flora and fauna of the mixed-grass prairies where she lived most of her life is what simultaneously drives her and recharges her to do the work of seeking ecological and social justice. She currently lives on unceded Lekwungen Territory, in Victoria, and is so grateful to be spending time with the Salish Sea and all the magical creatures who call it home.
Katie holds a BSc with Specialization in Animal Biology from the University of Alberta, and a Masters i Environmental Design with a focus on Conservation Planning from the University of Calgary. She has worked in the field of conservation and land stewardship for over a decade and is excited to join the GSA team. She has learned from the teachings of organizations like Next Up, The Inner Activist, The Women's Centre of Calgary, and the grassroots communities and activists she has been blessed to have as teachers, friends, and partners in creation. Katie spends her time organizing in community, gardening, slowly learning the banjo, and visiting the forests and sea that surround her current home.