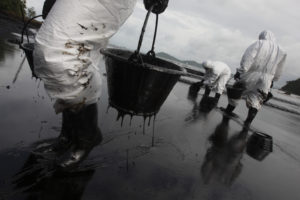 A major marine oil spill is expected in Canadian waters every seven years, and the Salish Sea has been identified as the region at highest risk in the country. Despite improvements in tanker safety, human error continues to be the leading cause of accidents and, as many experts have put it, an oil spill in our local waters is a matter of 'when', not 'if'.

Devastating impacts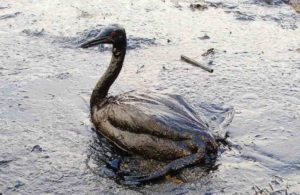 As we have learned from past accidents such as the Exxon Valdez, the environmental impacts of an oil spill are catastrophic and incredibly long lasting.  Fish, birds, marine mammals, reptiles, amphibians, shellfish, and plants are suffocated and poisoned. Breeding habitats are destroyed and food webs are disrupted. Oil kills and stunts wetlands grasses and other plants, causing root decay and soil erosion. Two and a half decades after the Exxon Valdez spill, which wiped out salmon and herring runs and killed 22 orcas, oil patches are still being found on remote beaches, and more than half of the species and habitats affected are yet to recover.
Research on both the environmental and human health impacts of heavy oils such as diluted bitumen is sparse and at times conflicting. However, what is known is that the condensate that is blended with the bitumen to allow it to flow through the pipeline would evaporate into the air in the event of a spill, and contains benzene, a known carcinogen. Following the Kalamazoo River diluted bitumen spill in Michigan, which resulted in evacuations in the nearby area, residents experienced nausea, dizziness, headaches, coughing and fatigue.
The economic risks of a major oil spill are also potentially devastating. For example, the direct clean-up costs of the Deepwater Horizon spill are estimated at $41 billion, with 22,000 jobs and $8.7 billion lost in the tourism sector alone. In our region, a Washington State study estimated that a major spill could cost $10 billion USD in and impact 165,000 jobs.
In short, a major oil spill in our region would threaten community health and safety, world famous beaches and wildlife, one of the largest salmon bearing rivers on the planet, tens of thousands of jobs, and BC's economy and global reputation.
Find out more
Major gaps in spill response capacity
Under the Canada Shipping Act, whoever causes a marine oil spill is known as the 'Responsible Party'. They are charged with cleaning up any spill and paying for any associated costs. All shipping companies and terminal facilities on the west coast must have contracts with Western Canada Marine Response Corporation (WCMRC), a Transport Canada certified company that conducts the spill response on behalf of the ship owner. The operation is overseen by the Canadian Coast Guard in conjunction with provincial and local authorities.  Depending where the oil ends up. If the responsible party can't be found or is proving ineffective, these agencies will take over the clean up coordination.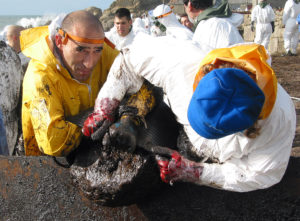 Unfortunately, we are woefully under-prepared to respond to a major marine oil spill on the west coast. For example, WCMRC is only required to be capable of handling a 10,000 tonne spill – a quarter of the amount spilled by the Exxon Valdez, and a tenth of the capacity of a single tanker travelling through our waters.  Response times are in the range of 6 – 72 hours, depending on where the spill happens; but because our waters are narrow and the currents fast-moving, an effective response would have to be almost immediate. Worst of all, a best-case scenario response would only actually recover 10 – 20% of the spilled oil. Finally, the funds available to pay for clean-up are also completely inadequate, and research suggests that Canadian taxpayers could be on the hook for up to 90% of the costs of a major spill.
Authorities, including the Auditor General of Canada and several branches of the BC government, have repeatedly warned that the resources available on the west coast are not adequate given current levels of oil tanker traffic, let alone given potential increases.
"Even a moderately-sized spill would overwhelm the province's ability to respond"
– BC Ministry of Environment, 2013
It is abundantly clear that we need to strengthen our level of preparedness to protect our environment and communities from the threat posed by existing tanker traffic, and prevent an increase in risk by saying 'no' to the Enbridge and Kinder Morgan pipeline proposals.
Find out more: