The Georgia Strait Alliance (GSA) was formed in 1990 by a small group of concerned citizens responding to increased pollution and damage to the marine habitat. To raise public awareness, a "human powered" crossing of the 29 kilometer Strait was organized and resulted in hundreds of people swimming, paddling, rowing and even wind-surfing across Georgia Strait. The event was repeated annually for five years.
As membership in GSA grew, an office was opened in Nanaimo and a full time Executive Director was hired. The Alliance began solution-based projects to show the need to preserve and protect the Strait.
Over the years we have worked on a number of fronts to increase public understanding and win public policy changes on threats like pulp and sewage pollution, oil spill risks, loss of critical estuary habitat and salmon streams, open-net cage salmon farming impacts and the need for protection of marine habitat.
As a result of our work since the mid-90s, there have been a number of initiatives focusing on the Strait of Georgia and increased awareness of the threats to the ecosystem.  We've had some wins but serious issues still exist and our work is more important now than ever.
One of our early projects resulted in Metro Vancouver upgrading two of its sewage plants to secondary treatment. GSA has also been a longtime advocate to persuade Victoria's Capital Regional District to install sewage treatment rather than continue to pump raw sewage into the ocean, and we're very happy that their new advanced secondary sewage treatment system will be up and running by the end of 2020.
GSA reached out to the estimated 500,000 recreational boaters that use the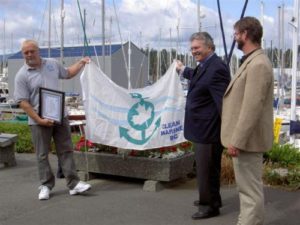 Strait with our Clean Marine BC program which has been tremendously popular. Our Green Boating program is the definitive source to help boaters find the facilities, services and information needed to protect our cruising waters. It has been awarded a prestigious Canadian Safe Boating Award for "Best Environmental Campaign". It was also recognized with a National Environment Award at Toronto's Yachtsman's Spring Thaw.
In 2007 GSA conducted a pilot program with Westport Marina in Sidney and a year later recognized them as our first eco-rated marina. Since then 20 marinas have committed to the program and more are on the way.
GSA has worked together with many other groups to protect Orcas and their habitat and to pressure the provincial and federal governments to change policies that threaten coastal communities. As an example of our science-based approach, we are working with the Raincoast Conservation Foundation on an innovative drift card study which documents how quickly and how far oil would be dispersed in the event of a tanker spill.
GSA has been granted intervener status in the National Energy Board hearings on the proposed Kinder Morgan pipeline expansion proposal. We will use that opportunity to outline the tremendous risks to Georgia Strait that would come with increased tanker traffic.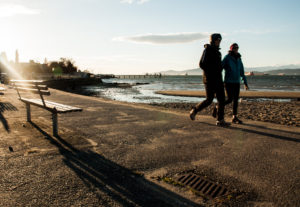 Our most recent project is the Waterfront Initiative which seeks to build a thriving and diverse shoreline that supports the current and future needs of healthy ecosystems, recreation, access to nature, and a strong economy to benefit all citizens.
From a humble beginning, the Georgia Strait Alliance has grown to a membership base of of over 1200 members.  With the continued support of our members, we are able to address issues affecting our marine environment using education, research, advocacy and hands-on stewardship.