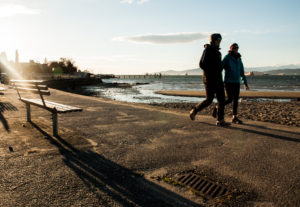 Working to protect and enhance Vancouver's waterfront through cross sector collaboration, integrated planning, and targeted action.
Vancouver's waterfront is a special place where land, city, water and people have come together for thousands of years. However, increasing pressures from urbanization, pollution, population and industrial growth, as well as intensifying conflicts over land use are putting our shoreline at risk.
We believe that integrated planning is essential to address the social, economic and ecological threats to the shoreline. This is why in 2013 GSA launched the Waterfront Initiative to collaborate across sectors to build a shared vision and take action together to ensure a diverse, thriving, and resilient waterfront for all.
The five themes of the waterfront:
• Living (residential)
• Working (industry, commerce)
• Moving (transportation, shipping)
• Playing (recreation)
• Environment (healthy ecosystems and climate change)