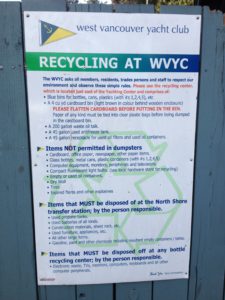 With 700,000 recreational boaters plying BC waters, most of these in the Strait of Georgia region, the marine environment can be impacted by many factors, especially when we congregate in marinas and anchorages.
The Strait of Georgia is home to an astounding variety of wildlife, and one of the reasons we spend time on the water is to spend time with these amazing creatures. However many of our species are endangered, and wildlife is sensitive to disturbance from recreational boaters. Feeding and other behaviour critical to survival can be disrupted, birds often abandon their nests, anchors can damage sensitive habitat, and whales can be disturbed by engine noise.
A variety of pollutants are released by our recreational boating activities, whether we are cruising, moored, at anchor, transporting or maintaining our boats. Lax regulations and a limited number of pump-out facilities along BC's coastlines means that sewage and greywater are often dumped into the marine environment. Fuel and oil spills from recreational boaters is one of the largest contributors to hydrocarbon releases in BC's coastal waters. Toxic paint and maintenance products can enter our waters through carelessness and general use of our boats. Excessive wake can damage sensitive habitat, and invasive species can be transported from place to place with our boats.
Neglected boats can become a real hazard, not only to navigation and our safety, but also to the environment, as these derelict vessels release fuel and other toxins into the ocean.
Fortunately, there are solutions! Georgia Strait Alliance's Clean Marine BC green boating program is here to help you find the facilities, services and information you need in order to protect our cruising waters for many years to come.

Purchase a Salish Sea Pilot with partial proceeds supporting our marine conservation efforts!