Thirty reasons to celebrate + how we're protecting the Strait
We want to take a moment to pause in order to celebrate something that is really positive in a time when there are so many important and challenging issues facing our society. To mark our big 3-0 anniversary of protecting the Strait of Georgia, we are sharing reasons to celebrate this marvellous and magical region that we call home every day this month. We're also sharing how— with the help of supporters, like you—we have been and will continue to protect the marine environment and to keep our coastal economies strong and vibrant.
You can count on Georgia Strait Alliance to be strong advocates for better oil spill response, to support the leadership of Indigenous communities, and to push federal and provincial leaders to improve protection of the marine environment for species like the Southern Resident orca.
---
1. #GSAis30
We're turning 30! Three decades on, Georgia Strait Alliance continues to focus on long-term, evidence-based solutions as we work for a sustainable Strait of Georgia, its adjoining waters and communities. Every day this month, we'll share a reason to celebrate this marvellous and magical place that we call home or tell you about how we're working to protect the waters and marine ecosystems of this region. We hope you'll be inspired and will consider getting involved in some of our initiatives. #GSAis30
---
2. Pacific white-sided dolphins
Normally seen much farther north, Pacific white-sided dolphins are returning in numbers not seen in a decade to an area that many years ago they called home. We are glad to see them back! #GSAis30
---
3. Spectacular Species
Seastars, a colourful marine predator, are coming back! Let's ensure they continue to return by keeping the Salish Sea healthy. #GSAis30
---
4. Supporting industry
The Georgia Strait is a hardworking body of water! It supports a huge range of businesses and industries that rely on healthy waters and the creatures that live there. Did you know that B.C.'s tourism sector provides 302,700 jobs and $18.4 billion in visitor revenues? #GSAis30
---
5. On-the-water
May the wind be always at your back, and may the sun shine warm upon your face. We work with marinas and boaters to keep B.C.'s coastal and inland waterways healthy so that we can all continue to enjoy our favourite water-based activities in the Strait. #GSAis30
---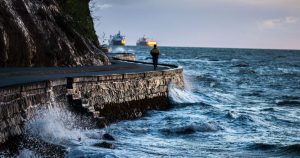 6. Holding fossil fuel companies accountable
We've supported twenty-six municipalities in B.C. that are taking action to hold global fossil fuel companies accountable for their fair share of local climate costs. These municipalities represent 32 percent of B.C. residents. Is your municipality taking action for climate justice? #GSAis30
---
7. Focusing on conservation through local films
We champion local filmmakers and films that focus on connections to the Strait of Georgia region through culture, sport, conservation, adventure or byway of other pressing environmental issues. Documentaries help us to see, remember and be inspired to act to keep coastal waterways healthy. #GSAis30
---
8. Stewards of the Salish Sea
We focus on the Canadian waters of the Salish Sea: the Strait of Georgia and adjoining waterways, where three million British Columbians live, work and play. The Salish Sea's name reflects and honours the historic connections of the Coast Salish peoples to this place, and to the large area of coastal waters off the south coast of British Columbia. #GSAis30
---
9. Orcas can't wait
We've been participating in a series of working groups with the federal government to provide input on sanctuary areas for Southern Resident killer whales and for measures to address toxic pollution and marine contaminants, which are threats to their survival. Help us help orcas before it's too late. #GSAis30 #OrcasCantWait
---
10. Defenders of wild Pacific salmon
Wild Pacific salmon is a keystone species with importance for so many people and creatures. Let's defend wild salmon by saying "no" to farmed salmon, which comes from disease-producing open-net pens in the marine environment. #GSAis30
---
11. Stopping the pollution we never consider
Metro Vancouver is in front of an opportunity to make wastewater cleaner for a healthier Salish Sea. The extent of the enhancement is still to be determined – and there is a public consultation in Richmond on March 31 – so now is the time to show your support for an upgrade to tertiary treatment at the Iona wastewater plant. #GSAis30
---
12. No passport required to vacation!
At a time when international travel is a risk, GSA is celebrating that we have so many amazing places right in our backyard to choose from when we need to get away from the stresses of daily life. Be it for spring break, family vacations, trips with friends, or time on our own, the Salish Sea is filled with opportunities for adventure and relaxation. #GSAis30
---
13. An ally of coastal communities and economies
Healthy regional waterways support coastal communities and economies throughout the Strait of Georgia region. #GSAis30
---
Watch this page for more reasons to celebrate GSA's 30 years of protecting the Strait, coming soon!
Celebrate a healthy Strait – DONATE NOW!