A snap federal election has been called for September 20, 2021, and we'd like to help you vote!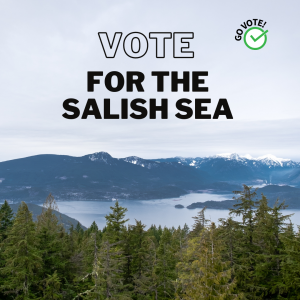 Elected officials have the opportunity to influence the policies and direction governments and corporations take, so it's crucial to ensure that those who reach these positions have the best interest of our communities at heart. This means we need candidates to commit to advocating and taking strong action to stave off catastrophic climate change – which is contributing to extreme weather such as the recent, record-breaking heat waves and forest fires. The climate crisis is also exacerbating habitat and species loss, and we will only be able to recover if we implement strong policies and ensure that those most affected, particularly Indigenous Peoples and racialized folks, are supported and given the opportunities they need to determine their present and future.
Will you be attending an all candidates meeting, phoning, texting or emailing your candidates, or visiting your candidates' elections offices? Here are some questions related to issues in the Salish Sea that you might like to ask your candidates that will help you decide who to cast your vote for:
Salmon:
There is currently a commitment to transitioning away from open-net salmon farms in BC by 2025. What isn't clear is what systems will replace these farms. This means that they could be transitioned into semi-closed containment systems or other forms of in-water technology. This is concerning as anything short of removal of these farms out of BC waters and into land-based systems will be ineffective for protecting wild salmon.The opportunity to show a commitment to see the end to open net farms by 2025 would be to deny the renewal of BC salmon farms that are set to expire in 2022.
Ask your candidate about protecting wild salmon from harmful aquaculture practices:
Will you and your party commit to supporting the end of ocean-based aquaculture by 2025, the denial of any open-net license renewals, and the creation of a responsible transition plan as soon as possible, while engaging in respectful consultations with local First Nations?
Orca:
Over the past two years, we have seen strong and decisive actions taken by the Federal government to protect endangered Southern Resident orcas. However, the current measures are not nearly enough to help this population recover. There has been no net-increases in the population since the 1980's and their preferred food,Chinook salmon, is at its lowest numbers ever. There are a lot of actions that the Federal Government can take to help this species recover, including implementing an emergency salmon recovery plan, not allowing disruptive projects within critical habitat and, improving on water monitoring and enforcement of protection measures.
Will you and your party commit to implementing, supporting and further financing recovery initiatives for Southern Resident Orcas, improve current management protection measures, and commit to protecting critical habitat of these orcas and their prey by not allowing disrupting projects within this legally protected area? 
Iona wastewater treatment plan:
The Iona Wastewater Treatment Plant (IWWTP), which discharges undertreated sewage into the mouth of the vital Fraser River estuary, has to be upgraded by 2030 per Federal regulations. This is a once in a lifetime opportunity to improve the health of the Salish Sea by implementing tertiary treatment during this upgrade. However, we learned in July 2021 that the upgrade plan is experiencing cost overruns anda four-year delay to 2034 for secondary treatment implementation. It is imperative that the Federal government not allow an extension to the legally binding 2030 deadline. Any continuance of primary treated sewage being discharged from the IWWTP would continue to threaten the habitat and species that call this region home.
Ask you candidate about the IWWTP:
Will you commit to ensuring that Metro Vancouver meets the Federal regulatory deadline for the Iona Wastewater Treatment Plant upgrade and supporting the implementation of tertiary treatment like we have seen done in other communities in BC like Victoria? 
Fossil Fuel Subsidies:
Climate science has made it clear that we must end the expansion of fossil fuel extraction immediately, and begin their phase out and replacement with renewable energy, to keep the worst impacts of climate change from happening. But right now the Government of Canada is using public money to support the expansion of oil and gas in Canada. It has been over a decade since Canada first committed to ending fossil fuel subsidies, but in 2020, the Government of Canada announced at least $18 billion in subsidies and public financing for the oil and gas sector.
Ask your candidate about fossil fuel subsidies:
Will you and your government commit to ending all subsidies, public finance and other fiscal support for fossil fuels by 2022, including financial support provided through Export Development Canada, and redirect that money to the development of renewable energy and sustainable energy systems?
Trans Mountain Pipeline Expansion:
Canada is the only G7 member whose emissions have risen since the 2015 Paris Agreement was signed. The International Energy Agency has said achieving net zero is only possible if we end the expansion of fossil fuel infrastructure now. The Canadian Energy Regulator issued a report last year saying that stronger Canadian climate policy may render the Trans Mountain Pipeline expansion unneeded.
At the same time, the Trans Mountain Expansion (TMX) has faced numerous delays because of poor safety and construction practices, Covid outbreaks in construction camps, and may face more due to wildfires along the construction route. These delays may have already pushed the pipeline into being a money loser, based on analysis done by the Parliamentary Budget Office.
The Trans Mountain expansion will make our awful climate record worse, is not needed, and is more and more likely to lose money for the Canadian public.
As your candidate about the TMX pipeline:
If elected, will your government immediately halt the expansion of the Trans Mountain pipeline?
Indigenous rights/sovereignty:
Despite Canada's discourse of establishing friendlier and "Nation to Nation" relations with Indigenous Peoples, it continues to trample upon the rights of Indigenous communities by supporting indefensible projects such as the Trans Mountain Expansion and the Coastal GasLink pipeline. The Federal Government has put forward a "made-in-Canada" piece of legislation, Bill C-15, that dilutes the UN's Declaration on the Rights of Indigenous Peoples (UNDRIP), going against one of its core principles: the requirement for the Free, Prior and Informed Consent (FPIC) of Indigenous Peoples themselves (for details see these articles by the BC Civil Liberties Association and the Yellowhead Institute). Added to this, the recent uncoverings of thousands of unmarked graves at the sites of former Indian Residential Schools, and the lackluster response from the federal government (as reported here) is unacceptable. We encourage you to visit the Indian Residential School Survivors Society website to learn more about what you can do.
Ask your candidate about Indigenous right/sovereignty:
Will you commit to repealing Bill C-15 and to fully implementing UNDRIP, following the principles set out by the Free, Prior and Informed Consent mechanism, as well as the full implementation of the recommendations set forth by the Truth and Reconciliation Commission, by 2022?
Voter resources: 
Thank you for your commitment to a healthy Salish Sea!