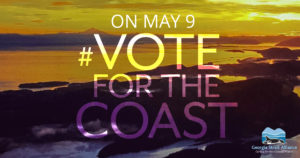 When we head to the polls on May 9, we all have a choice to make: let Kinder Morgan put our coast at risk, or put a stop to this dangerous pipeline and tanker project.
The BC government has the power to make sure Kinder Morgan's shovels never hit the ground – but only if we elect leaders who will step up and defend our coast, our orca and salmon, and our communities.
From casting your vote for the coast, to making Kinder Morgan an election issue in your riding, to volunteering to get out the vote, there's a way for everyone to make a difference this election.
Here's everything you need to know to #VoteForTheCoast.
---
Find out where your candidates stand on Kinder Morgan and other environmental issues.
---
Make Kinder Morgan an election issue in your riding.
---
Join our phone team to make sure environmental voters get out to the polls.
---
Tell your candidates you'll be voting to protect our coast from Kinder Morgan.
---
Update your Facebook profile picture to show you'll Vote for the Coast.
---
Authorized by Georgia Strait Alliance, registered sponsor under the Election Act, 604-633-0530