Vancouver City Councillors Swanson and Boyle have put forward a motion to get fossil fuel companies to pay for their fair share of the climate crisis. The resolution is here, and will be brought before council on June 25th, with debate on June 26th. We know that at least one part of the resolution is a tough sell. We need YOU to write in to council to show that there is strong community support for holding the Carbon Majors accountable.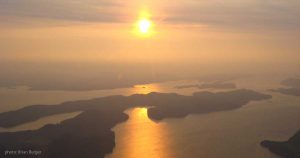 Municipalities in BC are uniquely placed to bring international stakeholders like Chevron and Saudi Aramco into a legal conversation to talk about their fair share of the climate crisis. We are already paying climate change related costs, and stand to pay much more. Both legally and morally Vancouver has grounds to demand accountability not just from companies operating in BC, but from the global companies which have made massive contributions to climate change felt here and around the world.
We know that the fossil fuel companies profited massively from selling their products. We know they knew about damages their product would cause. We know that they hid that information, and spread lies and doubt.
Vancouver council's support for this resolution will help protect their taxpayers (that's you) from paying billions of dollars in infrastructure upgrades as the climate breaks down and weather patterns are brutally disrupted. It also puts fossil fuel producers and their investors on notice: they can't simply profit from climate chaos and not pay their share. Raise your voice!  Below are the key messages.  Please don't copy and paste, but edit as you see fit, and most importantly include your own experience of adapting to climate change.
---
These corporations profited massively, while we cover their costs
We only have 11 years to change just about everything
The Carbon Majors can cover a fair share - not 100%, but a reasonable portion
Legal action is worth pursuing
They knew, and they lied
This action is now closed.
Please
sign up here
to get campaign updates and learn how you can take action for climate accountability in your community!