We need YOU to write a letter to your council to show that there is strong community support for holding the Carbon Majors (global fossil fuel corporations) accountable.  Why are we asking you to write your own letters?  Municipal councilors are the elected officials closest to their voters, and many have encouraged Georgia Strait Alliance to give their residents space to put their stories in their own words.  Personalized, researched letters are the most effective way to encourage this group of decision makers to act.
Port Moody, Victoria, and Richmond have all put forward resolutions to this year's Union of BC Municipalities (UBCM) conference in Vancouver on the subject of climate accountability. GSA staff, volunteers, and our allies will be around the convention center buildings and on the floor pushing for a win on this, but we need your help. We won't be able to talk to every delegate, and the fossil fuel industry will be well represented at this conference.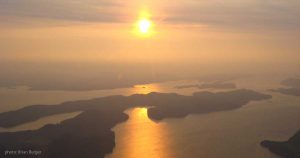 Municipalities in BC are uniquely placed to bring international companies like Chevron and Saudi Aramco into a legal conversation to talk about their fair share of the climate crisis. We are already paying climate adaptation costs, and stand to pay much more. Both legally and morally BC has grounds to demand accountability from the Carbon Majors.
We know that the fossil fuel companies profited massively from selling their products. We know they knew about damages their product would cause. We know that they hid that information, and spread lies and doubt.
The resolutions before the UBCM on this issue are B136 and B137
B136 is the resolution from Victoria directing UBCM staff to explore the initiation of a class action lawsuit on behalf of governments to recover costs from the Carbon Majors (more about why that is a good idea here, and here).  This resolution will be a very tough sell to the convention delegates.
B137 is the resolution from Port Moody, and supported by Richmond to pressure the province to enact legislation to clarify the rules around producer responsibility, specifically liability of fossil fuel producers for climate related damages (more about this here).  This resolution has more support, but the vote will still be very tight and highly dependent on who shows up for the debate and vote.
UBCM's support for these resolutions will help protect taxpayers (that's you) from paying billions of dollars in infrastructure upgrades as the climate breaks down and weather patterns are brutally disrupted. They also puts fossil fuel producers and their investors on notice: they can't simply profit from climate chaos and not pay their share. Raise your voice!  Below are the key messages.  Please don't copy and paste, but edit as you see fit, and most importantly include your own experience of adapting to climate change.
---
These corporations profited massively, while we cover their costs
We only have 11 years to change just about everything
The Carbon Majors can cover a fair share - not 100%, but a reasonable portion
Legal action is worth pursuing
They knew, and they lied
Legislation doesn't initiate a lawsuit
Thank you for visiting this page – this action is now closed