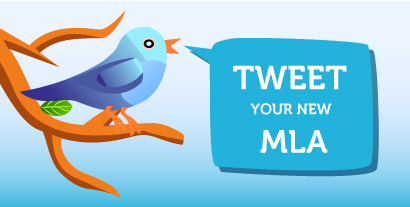 The BC election is over – except it's not! Although we don't yet know who will form the next government of BC, here are a few things we do know:
Who our new MLAs are (well, most of them)
Over 60% of British Columbians voted for parties that promised to do everything in their power to stop Kinder Morgan
Pundits are proclaiming that the Kinder Morgan project's prospects just got a lot more gloomy, and politicians across the country are watching closely
So, if you can't stand the waiting and want to DO SOMETHING – why not send a tweet to your new MLA? Congratulate them on their win and tell them that, since 60% of British Columbians voted for candidates that oppose Kinder Morgan, you're looking forward to seeing your MLA work to stop the project.