After months of work by an expert research team, and passionate, articulate testimony from Georgia Strait residents, GSA has submitted our evidence as intervenors in the National Energy Board's review of the proposed Kinder Morgan pipeline expansion.
It describes the countless reasons why coastal residents think this project is a big step in the wrong direction. It shows that coastal communities have the most to lose from an oil spill, but also have very little voice in planning for and responding to a spill. It outlines the many important roles that local governments play in the event of a spill affecting their community. And it calls on senior governments to get much clearer about who's responsible for what if a spill hits, and to give local governments the resources and the information they need to play their part effectively.
---
EXPERT REPORT: ASSESSING LOCAL GOVERNMENT OIL SPILL RESPONSE CAPABILITY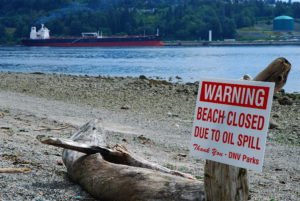 We contracted a team of expert researchers to answer this question: Are coastal communities in the Georgia Strait adequately prepared for a marine oil spill?
Through interviewing local government emergency management personnel and learning lessons from oil spill response regimes in California and Washington, the study reveals gaps in BC's coastal community marine oil spill capability and offers recommendations for improvement.
Key findings from the report include:
Local governments have important roles to play in a marine oil spill, including communicating to the public about health and safety, coordinating evacuations, closing beaches and other infrastructure, and identifying sensitive areas for priority protection.
Local governments are not adequately prepared to manage the consequences of an oil spill affecting their community, and engage in the multi-agency response effort. All but one of the local governments who participated in the research reported limited preparedness, or complete non-preparedness, in the event of a marine oil spill.
Local governments are challenged by poor communication from senior spill response partners, a lack of clear and detailed plans outlining the roles and responsibilities of all the agencies involved in spill response, and a lack of capacity and financial resources to respond to the consequences of a spill in their community.
The report makes recommendations to all levels of government to strengthen marine oil spill response in the region, including:
Oil spill response plans should be publicly available in BC, much like they are in Seattle and San Francisco.
Senior response partners should improve their communication and engagement with local governments regarding marine oil spill planning and training in the Georgia Strait region. They must ensure that funding is not a barrier to local government participation in marine oil spill planning and training exercises.
The roles and responsibilities of all the involved parties should be clearly documented.
Local governments in the Georgia Strait region should ensure that their emergency response plan addresses marine oil spills and that the plans provide operational detail about all the types of activities the local government will engage in.
Read the full report
Read the press release
---
TESTIMONY FROM GEORGIA STRAIT RESIDENTS
The Kinder Morgan pipeline affects everyone in BC – but only a tiny fraction have an official voice in the NEB review process. So GSA offered coastal residents the opportunity to submit their comments directly to the NEB as part of GSA's evidence. Thanks to all of you who took the time to write such well-argued and heartfelt words about why you love this coast, and why you don't want the Kinder Morgan pipeline to go ahead.
Here is a short summary of some of the most common themes in your comments to the panel:
Oil spill impacts due to increased tanker traffic: the damage an oil spill in the Georgia Strait would do to wildlife and the environment, jobs and the economy, and recreational opportunities
Inadequate oil spill response: resources and procedures are not sufficient to address the risk
Climate change: the need to reduce fossil fuel production and consumption to avoid dangerous climate change, and to invest in clean energy instead
Lack of economic justification for the project, and long term economic risk to Canada of investing in carbon-intensive products
Wider environmental impacts of oil extraction and transport
Lack of trust in Kinder Morgan in general, and its safety record in particular
Lack of trust in the NEB review process
Oil industry's power in Canada trumping citizen's rights to a healthy environment and democratic processes
The risks of the proposed project outweigh any benefits.
Read the full set of your comments that we submitted to the NEB here.
---
WHAT CAN YOU DO?
Host us in your town! 
We want to talk to Georgia Strait residents and local governments about the lessons learned from this report, and how we can ensure that communities are in a better position to respond in the event of a spill. Email alexandra@georgiastrait.org if you'd like to talk about how we could work together in your area (like organize a public meeting, meet with your local council, etc.)
Support our work.
We are standing up for coastal communities – in our work with the NEB review, with local and regional governments, and with residents – but we can't do it without your support! Please consider making a donation to Georgia Strait Alliance to help ensure that we can bring the important lessons revealed in this report to as many towns and cities in the Strait as possible, and work together to strengthen our ability to protect coastal communities from oil spills.