Sun, 4 June 2017  |  3:00 PM – 11:00 PM PDT
---
AFTERNOON SCREENING (3-6p) followed by a short Q&A
---
Bruhwiler Country (2017) 7 mins
Travel with Canadian surfing legend Raph Bruhwiler on a trip into the open waters off Vancouver Island, where he and his family have staked a claim to the waves and woods for generations.
---
What if I fly? (2016) 9 mins
Hawaiian climate change artist Sean Yoro (HULA) travels to the remoteness of the arctic waters of Baffin Island in Nunavut to paint a gigantic portrait of a local Inuit woman on large pieces of moving sea-ice plates. With little more than his tools and a paddleboard, he races against the tides and the challenging and unpredictable weather conditions.
---
Ocean Stories: the Halls (2016) 25 mins
You'll be pulled beneath the waves into the depths of a visually sublime adventure, with as Howard and Michele Hall, winners of seven Emmy awards, recount stories of danger, wonder, hope, and warning.
---
Sonic Sea (2016) 62 mins
As more sounds are filling our seas, more marine life is dying.
Sonic Sea is an award-winning documentary about the impact of industrial and military ocean noise on whales and other marine life. It tells the story of a former US navy officer who solved a tragic mystery and changed forever the way we understand our impact on the ocean.
The film is narrated by Rachel McAdams and features String, in addition to the renowned ocean experts Dr. Sylvia Earle, Dr. Paul Song, Dr. Christopher Clark and Jean-Michel Cousteau.
---
Panel Discussion with experts on Ocean Resource Management (Panelists TBA)
---
EVENING SCREENING (7:30-11p) followed by a short Q&A
---
Super Salmon (2016) 25 mins
The story of one fish's determination to reach the origin of Alaska's Susitna River—the Everest of rivers, which is under threat from a mega-dam proposal. Director Ryan Peterson presents a humorous yet powerful story that balances views on a controversial topic, and adds a dash of humour.
---
Keepers of the Coast: Issues (2016) 5 mins & Sustainable Economies (2016) 7 mins
These two short films explore how British Columbia's Kitasoo/Xai'Xais, Heiltsuk, Nuxalk, and Wuikinuxv Nations are using a combination of traditional knowledge and science to inform marine plans that uphold indigenous laws and steward our marine resources in a manner that sustains our cultures and ensures intact ecosystems, healthy communities, and local sustainable economies.
---
Atlantic (2016) 75 mins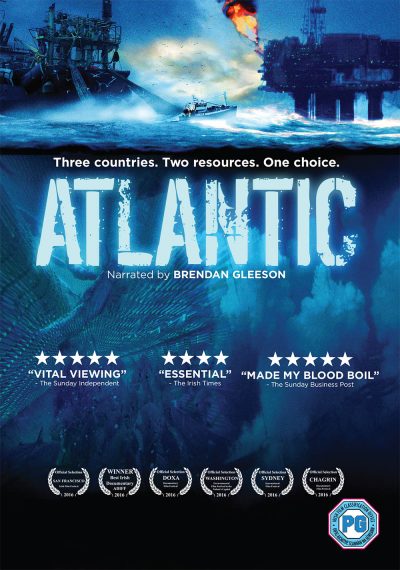 Three countries. Two resources. One choice.
Narrated by Emmy Award-winning actor Brendan Gleeson, Atlantic follows the fortunes of three small fishing communities united and divided by the Atlantic Ocean – Ireland, Norway and Newfoundland – as they struggle to maintain their way of life in the face of mounting economic and ecological challenges. As the oil majors drive deeper into their fragile seas, and the world's largest fishing companies push fish stocks to the brink, coastal communities and the resources they rely on are fast approaching a point of no return.
Filmed in some of the most remote and breathtaking locations in the North Atlantic, and at close quarters with some of the sea's most captivating characters, Atlantic brings to the fore three very personal stories in the global resource debate and explores how modern day communities must learn from the past, in order to secure a brighter future.