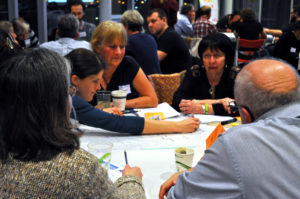 Get in touch with Vancouver's waterfront
Contact the Waterfront Initiative waterfront@georgiastrait.org
The Waterfront Initiative is an invitation to collaborate for all those with an interest in the future of Vancouver's shorelines: First Nations, government, businesses, civil society organizations, and citizens.
We host regular Stakeholder and Citizens' Forums to define a common agenda with measurable objectives and actionable steps towards a healthy and prosperous Vancouver waterfront.
---
Read the Reports From Our Forums
---
Stakeholder Forums
---
Research
---
Citizens' Forum
---
 Show Us Your Waterfront!
Check out a map of waterfront opportunities and successes from our March 2016 forum
Pictures, stories, and videos of your favourite places on the waterfront for our community mapping project.
Show Us Your Waterfront Gallery & Map
Gallery