In October 2006, GSA volunteer Stephen Salter visited various cities in Sweden to find out how this country has tackled sewage treatment. What causes a professional engineer and consultant from Victoria to spend his quality holiday time talking sewage in Sweden? That's easy – for the past several years, Stephen has been an active and integral part of the campaign to bring sewage treatment to Victoria. But his goal has always gone beyond just treating our sewage to seeing what we could get out of what we consider waste. In his research, Stephen has seen how communities around the world get valuable resources from their sewage, including water, biodiesel and heat. But the pictures only answered some of his questions, so off to Sweden he went! Here are some entries from a journal that Stephen kept during his trip.
Why Sweden?
As a volunteer working with the Georgia Strait Alliance and the TBuck Suzuki Environmental Foundation, I've often pointed to examples of innovative waste treatment through resource recovery from Europe. In Sweden, for example, it is common to use the biogas from sewage treatment to run vehicles as a way of reducing inner-city air pollution and greenhouse gases.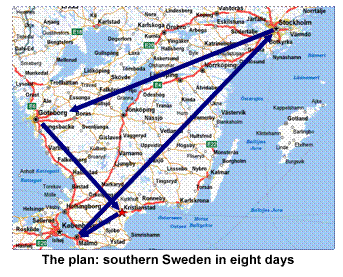 With the greater Victoria area entering into the planning stages for sewage treatment, I felt it was time to see these practices for myself.  Mayor Alan Lowe kindly provided a letter of introduction, and I made contacts directly, but also with the help of the Swedish Embassy in Ottawa, the Swedish Trade Council, and Eric Zinn, a Gothenburg engineer who read about my upcoming trip thanks to a story by Victoria's Carolyn Heiman in the National Post.  In the end, nine officials from national and municipal government, energy companies, and treatment plants in Stockholm, Gothenburg, and Kristianstad spent over twenty hours of their time answering my many questions.
During the trip I hoped to find answers to four main questions:
What led Sweden to take climate change and pollution seriously, to develop the will to act?
Do personal values give the environment greater importance in Sweden?
Is it practical and economical to recover resources from waste?
What would Swedish officials do in our place, here in Victoria?
I went expecting to find cutting-edge technology for recovering energy from waste. While technology is part of the answer, the main force at work in Sweden is cutting-edge common sense.
October 3, Stockholm
Officials from the Swedish Energy Agency and the Swedish Environmental Protection Agency explained Sweden's fifteen environmental objectives, which include goals for air quality, greenhouse gas reductions, and liveable communities. Sweden took the first oil shock of 1973 seriously, and began from there on a path toward increased energy independence. More recent drivers for biofuels have included a push for cleaner air in cities, and climate change. A Swedish Energy Agency official presented a graph showing that Canada's CO2 emissions have increased by 24% since 1990, while Sweden's have decreased by 4%.
To maintain progress toward its environmental and climate change goals Sweden has developed a green electricity certificate system, funded municipal biogas and sustainable energy projects through Local Investment Programmes, and implemented a carbon tax on fossil fuels. The Swedish carbon tax doesn't apply to biofuels, which makes biogas about 20% cheaper than gasoline today, and about 50% cheaper when oil prices spiked in the summer of 2006.  In contrast, Canada has a perverse carbon subsidy through oil and gas tax credits.
Sweden is also investing heavily in R&D for sustainable fuels, and the Swedish Energy Agency is funding renewable energy research and is operating pilot plants to convert wood waste into biodiesel and ethanol. As it is, all gasoline in Sweden contains 5% ethanol (currently bought from Brazil), and citizens can buy cars which run on 85% ethanol. Filling stations must provide one form of alternative fuel such as biogas, biodiesel, or ethanol, and I saw examples of all three.
October 4, Gothenburg City of Gothenburg
The Manager, Sustainable Water and Waste Management explained that each city in Sweden has separate companies to manage drinking water, waste water, solid waste, energy, and transportation. All of the companies are owned by the cities themselves and therefore by citizens,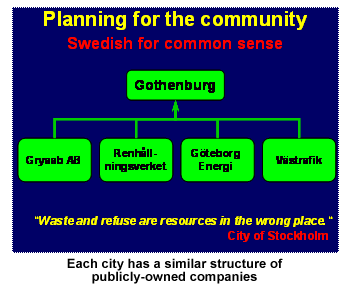 and the companies take their direction from the municipal councils of politicians.  The Manager, Sustainable Water and Waste Management emphasized that to get the best results for the community and the environment, planning for issues of waste water, solid waste, energy, and transportation must be done together. Although it can take several years to break down the barriers between municipal departments, the results are worth the effort, and in Gothenburg include the following:
Solid waste is diverted to biological treatment in the wastewater treatment plant's sludge digesters to produce more biogas;
Biogas from the wastewater treatment plant is upgraded and injected into the city's natural gas distribution network, where it is available to fuel biogas-powered cars;
Heat from treated sewage is extracted by the energy company and injected into the city's district heating network, where it provides hot water and space heating for 36,000 apartments;
The wastewater treatment plant is paid for these energy streams, which reduces their operating costs and the cost of treatment borne by citizens.
This high level of integrated community planning turned out to be a theme in the other cities I visited, and a vital part of Sweden's environmental strategy.
Gothenburg's Manager, Sustainable Water and Waste Management also explained that while Sweden's fossil tax, electricity tax, and Local Investment Programs are helpful, the financial benefits of recovering energy from waste are too compelling for cities like Gothenburg to ignore.
October 5, Gothenburg Göteborg Energi
This morning personnel from Göteborg Energi explained their energy and climate change strategies. Decades ago, air pollution from fossil fuels burned for heating had resulted in unacceptable smog in Gothenburg. The city responded by developing a district heating network and by building cogeneration plants which produce electricity, and in which waste energy is used for district heating.  Development of biogas began in earnest in the mid-1990s.  While all biogas currently comes from the city's Gryaab sewage treatment plant, a new wood waste gasification plant ("Gobigas") is planned for 2010 which will provide enough biogas for 75,000 cars.
I also learned how the local energy company (owned by the city) plans to expand the biogas networks and district heating piping over the next few years. It's impressive to see how planning is coordinated (wastewater, solid waste, city planners, transit, energy people). The hotel in Gothenburg was heated by district heating too ("Yes, of course." said the receptionist). They're constantly digging up the streets to install new piping, piggybacking on installations of broadband cable or other underground services.
District Heating
When an apartment or home owner signs on for district heating in Sweden, they pay 30% to 50% less than the cost of heating with oil or electricity.  Citizens have what Göteborg Energi calls a 21ºC Climate Contract, in which the energy company ensures hot water and heat are maintained. From the apartment owner's point of view it may not make sense to insulate, but the energy company knows it will be providing energy for the building for generations. They therefore have an incentive to insulate the building because reducing its energy use leaves more energy in the heating pipes, allowing the company to sign up more district heating subscribers. In this way, the interests of the energy company and the environment are in complete alignment.  Contrast this with the North American model, in which our energy companies can only sell more energy if we consume more, and therefore cause more pollution. In Gothenburg, energy extracted from treated sewage through heat pumps provides domestic hot water and space heating for 36,000 apartments, and in Stockholm this source of energy provides for 80,000 apartments.
District Cooling
After heat energy has been extracted from treated sewage, the result is very cold water – just above freezing.  Energy companies in Sweden distribute this "coolth" through district cooling pipes for refrigeration in food stores and air conditioning in office buildings. Buildings served by district heating and district cooling also save on the cost of installing and maintaining furnaces, hot water boilers, chimneys, and air conditioning machinery.  This equipment is replaced by a simple heat exchanger in the basement.  Extracting every last benefit from resources results in more employment, and when you also remember that energy for district heating and district cooling comes from "waste" sources and so displaces fossil fuels, you realize it's a complete win-win for everyone.
Cogeneration
Göteborg Energi plans to build a large cogeneration plant for electricity and heat which will be fuelled by wood waste.  The heat from the cogen plant will be used to expand the district heating system, and by agreement with Germany, building the plant will allow the oldest coal-fired plant in Germany to close.
Gryaab Wastewater Treatment Plant
This afternoon I toured Gothenburg's tertiary sewage treatment plant, owned by Gryaab AB.  Although it treats sewage from the same number of people as Vancouver's Annacis Island secondary treatment plant (740,000) it is very compact, bounded by a nature reserve on one side and by a refinery on the other. The Annacis Island plant occupies 51 hectares, while the Gryaab plant takes up only 10.  The plant also treats a significant proportion of Gothenburg's storm water as well as its sewage.
The interesting thing about the Gryaab plant is that it also accepts increasing amounts of organic waste (grease and oil removed from restaurant grease traps, and organic kitchen waste) into the sludge digester to produce more biogas. Biogas from Gryaab is upgraded and injected into the city's gas distribution network for distribution to eighteen filling stations.  Biogas currently powers the equivalent of about a thousand cars in Gothenburg, and this number will increase as the amount of organic solid waste treated by the plant increases.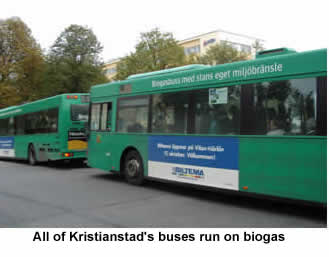 The plant's Operations Manager explained the operating costs (amortization, operations, and maintenance) of the Gryaab plant, which  showed that when sales of biogas and heat are taken into account, the cost of tertiary treatment to citizens of Gothenburg is lower than the Canadian average for secondary treatment. While Canadians pay an average of $120 per household per year, residents of Gothenburg pay the equivalent of $86 per household per year.  This is fascinating, since it shows that doing more with waste can cost less, but only if waste is treated as a resource, and ifmunicipal planning includes energy and city transportation. I drove a biogas-powered Volvo this evening from Gothenburg to Kristianstad, and along the way counted five or six windmill installations, all going great guns in a storm.
October 6, City of Kristianstad
Kristianstad was founded around 1616, and is filled with classical architecture with a strong Danish influence. The graceful city of 75,000 is peaceful by night, and humming by day. The Coordinator of Climate Change Strategy generously spent his entire Friday showing me the facilities were biogas is produced, upgraded, and distributed. The city has two car and two large bus filling stations, and all of the city's twenty-two transit buses, the school busses, most taxis, and several hundred private cars run on biogas.
Karpalund Biogas Plant Biogas is produced from two sources in Kristianstad; the sewage treatment plant, and a separate biogas plant at Karpalund. The Karpalund biogas plant was built in 1995 as a means of solving two problems; organic waste (from farms, food factories, and city residents) and the need for greenhouse gas neutral fuel.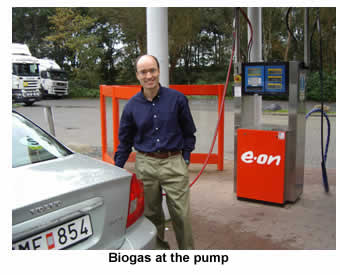 Organic waste was banned from Swedish landfills in 2005, and is actively being diverted to biological treatment to produce biogas. Biogas from the plant is burned along with wood waste in a local cogeneration plant, where electricity and district heating are provided from one process. Within a few months however, a new upgrading plant will allow the gas to be used in up to 1,500 cars and buses. Heat from the cogeneration plant is used in Kristianstad's district heating system. Almost all of the apartments and municipal buildings in the city are heated by district heating from this plant. In Kristianstad they know the community is far from fossil-free, but they're very seriously on the path. Municipalities are leading the way in Sweden.
Before leaving Kristianstad for Malmö, I refilled at the sewage treatment plant's biogas outlet, so the trip was fuelled entirely by biogas from sewage. It was an odd feeling, realizing this was a completely guilt-free, greenhouse gas-neutral trip, powered at 110 by the community of Kristianstad.  Along the way I lost count of the windmills – over fifty for sure. I don't understand objections over the sight of wind turbines in Canada. I think they're just beautiful, especially when you know each one carries a thousand homes.

October 7, Malmö Västra Hamnen
This sustainable development is built on a former contaminated shipyard site, and includes a huge variety of designs. The buildings are surrounded by water features, bike paths, and pedestrian paths; cars are not welcome. The community is built beside the famous Turning Torso, and is powered by its own windmill.http://www.malmo.com/index_eng.htm
October 8, Malmö to Stockholm
The trip from Malmö to Stockholm by high-speed electric train took about four hours. (Trains are electric in Sweden "wherever possible".) Sweden is a brilliant green; green fields, green forests, and the cities are contained rather than sprawling.  One minute your train is in the countryside, the next you're in the city's central station.  Swedes tell me the Skåne region in the south has some of the best farmland in Europe, and I believe them. The red farm houses are immaculate, the fields look ancient and beautiful.
October 9, Stockholm Stockholm Vatten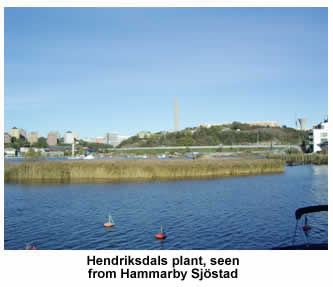 This morning I toured the Hendriksdals treatment plant and interviewed the Manager, Business Development on her plans to expand the markets for energy and biogas from the treatment plant.  This job title struck me as very interesting, showing how embedded the idea of treatment through resource recovery is in Sweden.
The Hendriksdals plant is built into the side of a hill, and although you can see the apartment building (which houses 1,600 residents) directly on top of the plant, the tall vent stack is so effective the plant has never received an odour complaint.
The plant first opened in 1941, but has been continually upgraded to the current tertiary level.  Nitrogen and phosphorous are removed, and treated effluent is actually filtered before being discharged.  Effluent quality is twenty times better than our provincial standards, but because of the revenue realized from the sale of heat and biogas, the net cost of treatment to citizens of Stockholm is again lower than the Canadian average.  While we pay an average of $120 per household per year for secondary treatment, residents of Stockholm pay the equivalent of $78 per household per year for tertiary treatment.  Like the Gryaab plant in Gothenburg, Hendriksdals also accepts an increasing amount of organic solid waste from households into its biogas digesters.  The goal is to produce more and more biogas.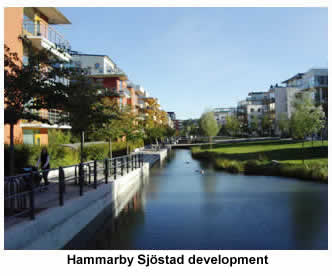 Hammarby Sjöstad
This afternoon I was given a presentation on the city's Hammarby Sjöstad ("city by the water") development, which is designed for sustainability along similar lines to Victoria's Dockside Green development.  Hammarby Sjöstad was built on a former contaminated site, and the ten thousand apartments require less water and energy that the Swedish average. Stormwater is treated on site, and all buildings are heated by the energy company's heat pumps, which in turn extract energy from the Hendriksdals treatment plant effluent. The Hendriksdals treatment plant also provides upgraded biogas for cooking in Hammarby Sjöstad. Storm water is also treated onsite through water features.
A novel feature of the development is the underground vacuum tube system which residents use to send separated organic and other waste to a central collection point.  Organic waste is then fed to the Hendriksdals biogas digesters.  The closed energy and material loops between the waste treatment plant (really a resource recovery plant) and the development are a wonderful example of eco-industrial planning; cycles are closed, just as they are in nature.
The core areas of Stockholm and Gothenburg are built for bicycles and pedestrians.  It is intended to be difficult to bring a car downtown, and less necessary since electric trams, biogas or ethanol buses, and bike paths are the norm.  I saw businessmen and businesswomen in immaculate suits riding their bikes to work, in some cases chatting on their hands-free cell phones as they pedalled.  Combined with the beneficial results of district heating, this approach to transportation has resulted in much cleaner air in the downtown cores.  Going for a run in downtown Stockholm was a completely different experience from Vancouver, because Stockholm's air is significantly cleaner.
Summing up
Some may wonder if the practices in Sweden can be successfully transplanted in Canada, with our different (visible) price of energy, environmental regulations and tax structures.  Whenever the opportunity arose, I asked Swedes about their views of taxes and the environment, to help me with comparisons.  One professional couple in Malmö said "We are rich, because we live in a rich country".  They explained that to them, knowing people and the environment were being looked after means peace of mind, and thus justifies their taxes.  Several people explained the Swedish law granting access to private land, allemansrätt, translated as "everyman's right" of common access.  Swedes are free to traverse and even camp on private land, within some generally accepted guidelines concerning respect for owners' privacy and livelihood.  The result is a stronger connection with land.  To Swedes, the expression "welfare state" has a positive meaning, that the welfare of people and the environment are protected.  In the end, I saw more shared values between our two countries than differences.
Beyond social and environmental values, Sweden is showing how resource recovery is also good for the economy; Sweden is living the ideas in Natural Capitalism (Hawken and Lovins). The premise of this book is that we need to extract every last bit of value from each unit of raw resource we take from the earth. Doing so reduces the demands on the planet's resources, reduces pollution in the form of "waste", and increases employment. Biogas and district heating in Sweden are good examples of this "radical resource productivity", and the country is going further still by reducing taxes on employment and increasing taxes on raw materials, including fossil energy. In answer to the question, what would you do in our place here in Victoria, the answers from Sweden are:
Integrate our planning of liquid waste, organic solid waste, energy, and transportation, so that the results for the community are optimized.  Planning for each of these areas in isolation sub-optimizes ("pessimizes") the results for the community.
To make waste pay its own way, count every output as an input, every waste as a resource.
Recovering more value from waste costs less overall.
Minimize pollution to water, land, and air at the same time; solve several problems at once.
Keep things flexible, so that energy can always be put to its highest purpose.  An example of this is the way the sewage treatment plant in Stockholm will start to buy heat energy from the energy company, in order to make more biogas available for city buses. The result will be less pollution overall, as well as higher economic returns for the treatment plant.
Finally, the impression I'd had from books that Swedes are reserved is gone forever. Everyone I met was unbelievably generous with their time, help, and information with this Canadian who came to them with no official standing. Environment is a global issue, they explained with a gentle smile.
Stephen Salter, PEng
Victoria, BC