Southern resident killer whales face detrimental food shortage
Georgia Strait Alliance supports the Watershed Watch Salmon Society's call for the public to write Minister LeBlanc of Fisheries and Oceans Canada asking him to put a stop to the over-fishing of BC's wild salmon. We urge all Canadians to be a voice for salmon and all the species that depend on this rich, wild food source, especially the endangered southern resident killer whales.
---

Please visit the Watershed Watch Salmon Society's webpage to read the complete mid-season salmon update and to write a letter to Minister LeBlanc about your concerns »
Watershed Watch has provided an easy to use emailing tool that includes a list of tips to include in your letter and can be found at the bottom of their web page.
---
Why action is needed
The endangered southern resident killer whales are on the brink of extinction with only 76 whales left. One of the greatest threats to their survival is the lack of abundant chinook salmon, which make up to 90% of their diet. For reasons not yet fully understood by scientists, the southern residents have shown that they will rarely switch their primary food source from chinook to another species, and therefore face starvation in the wake of dismal chinook salmon returns for the past several years along the entire coast of British Columbia.
Learn more about the threat of low prey abundance and availability to the southern resident killer whales by reading No Salmon-No Orca blog »
The Watershed Watch Salmon Society recently released their Mid-season BC Salmon Update, which provides a summary of salmon returns and fisheries from northern to southern British Columbia. As predicted, the BC salmon spawning returns and reported catches are very low off the majority of the BC coastline.
As southern resident killer whales primarily depend on chinook salmon, we have summarized the data from the Watershed Watch report into a table listing the returns and fisheries data for chinook salmon up and down the coast.
BC Chinook Salmon Fisheries Summary »
As the data in the report shows, BC salmon are in serious trouble. Action by DFO must be taken immediately to protect the salmon stocks we have left and to rebuild populations for the future. The southern resident orcas face a serious risk of extinction if chinook populations continue on the downward spiral they are currently on. The graph below illustrates this year's Albion cumulative chinook Catch Per Unit Effort (CPUE) compared to historical average cumulative CPUE, with 2017 barely exceeding the zero line. The data is collected on the lower Fraser River at Albion, BC. Fraser River chinook are a crucial source of food for the southern resident killer whales from spring through fall.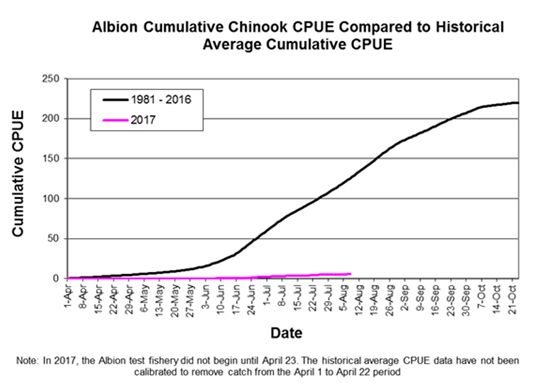 Figure 3: Graph produced by the Albion Chinook Test Fishery, 2017. The cumulative chinook Catch Per Unit Effort (CPUE) for 2017 compared to historical average cumulative CPUE.
Alaska has taken emergency action to protect chinook, why is DFO not doing the same?
On August 7th, Alaska's Department of Fish & Game issued an emergency order closing all Southeast Alaska's recreational and commercial fisheries targeting chinook in order to protect chinook returning to BC, Washington, and Oregon. The emergency order read:
"Southeast Alaska and British Columbia stocks are experiencing historically low production; many of the affected stocks will not meet escapement goals or management objectives in 2017.

The in-season data and stock specific information cannot be ignored when conservation of wild stocks is the foundation of the Alaska Sustainable Salmon Fisheries Policy and the Pacific Salmon Treaty. Therefore, it is imperative that Alaska offer relief now for these stocks, with a focus on protecting future production."
DFO needs to take similar direct action up and down the BC coastline to ensure that wild salmon stocks are not depleted any further. It is clear that current management of BC salmon stocks is failing. Chinook fisheries need to be closed now so that the species can begin to rebuild before it is too late. BC salmon are at risk of facing the same fate as the east coast cod fishery that collapsed in the early 1990's.
It is crucial that Canadians tell the federal government that we want our wild salmon stocks protected so that future generations of both people and wildlife can continue to utilize this wild and healthy food source.

Learn more about the failure to implement Canada's Wild Salmon Policy and the harmful effects this has had on BC's wild salmon populations »