Georgia Strait Alliance & Ocean Bridge Present…
The Salish Sea BioBlitz!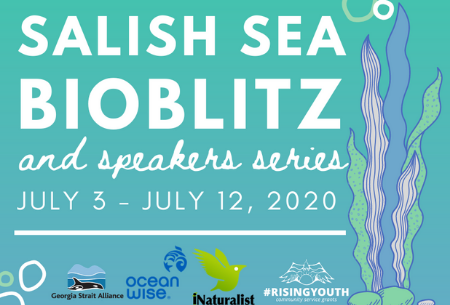 It's estimated that there are 37 species of mammals, 172 species of birds, 253 species of fish, and more than 3,000 species of invertebrates call the Salish Sea home. This summer, we celebrated all of them at the Great Salish BioBlitz! A BioBlitz is a form of community-science where community members try to identify as many species as they can in a short period of time. This gives us a snapshot of an area's diversity of wildlife, or biodiversity. 
During the BioBlitz we had:
3044 observations
935 unique species 
5 guest speakers
---
Speakers Series
During the BioBlitz, we explored the diversity of the Salish Sea from a variety of perspectives in a series of webinars hosted by local experts. 
View all of the speakers here!
Click any of the event titles to learn more about the topics, and watch a recording of the webinar.
Stories of the Shore with Xwalacktun
The Next Little Mermaid Should be Black: How Does Identity Impact our Access to the Ocean?
All About Birds
Exploring the Intertidal